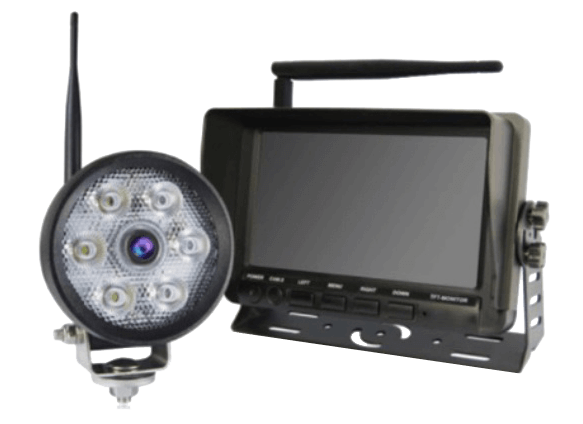 NEW! Wireless Work Lamp High Definition Camera System 772S261M2 Digital Wireless Work Lamp Backup Camera System utilizes Kocchi's Next-Gen RF technology for digital wireless connection. This new system boost signal performance greatly for up to
1000ft

, which makes it the best solution for RVs and commercial vehicles! This will keep a perfect image from the backup camera always displayed on your monitor.
Digital Wireless Rear Observation Camera System
Due to the amount of cable to install, you would probably be unable to have a backup camera system added to a vehicle or machinery as quickly or easily as you would like. By connecting Kocchi's new digital wireless backup camera system, the fitting process can be cut in half, saving an hour of installation time and eliminating the use of additional cabling.
New digital wireless technology gives almost instant pictures (Camera to monitor latency in less than 120 milliseconds) and is not affected by electrical interference from other vehicle or machine equipment. The rearview camera's image is sent to the monitor by means of a built-in transmitter and a receiver, and once the connection is established, the wireless signal is locked. The system also features an easy re-pairing function: This feature is offered for vehicles that allow interchanging of different trailers for use in different locations.
Some Benefits:
No longer requires the need for additional suzie cables

Greatly expedites the installation process

Good for interchangeable trailers
Wireless TX/RX 
With the quantity of cable to install, it is not possible to install a backup camera system to a large vehicle or equipment quickly. Now, the innovative wireless AHD TX/RX box from Kocchi's minimizes cabling surplus for you, saves fitting time for up to two hours and eliminates the need for a further suzie cables.
The new wireless digital technology provides instant images and it does not suffer from signal interference from other wireless devices. The image of the camera is sent via a transmitter, the wireless connection is secure once linked. The TX/RX system also has a simple re-pair feature, allowing the receiver to be linked to a different transmitter making interchanging trailers possible. Download Specs Sheet →