AI BSD Detection Camera & Electronic Rear View Mirror System

MirrorAI™

 
Next-generation ADAS optical technology combining AI intelligent
BSD pedestrian detection & vision in a single 'Electronic Mirror Camera Package'.



MirrorAI™ is a 1080P driver vision camera system that replaces mirrors on trucks
and buses with integrated, digital AHD cameras & mirror monitors. 
When a pedestrian or a cyclist is identified by the BSD camera in the vehicle's blind spot, Artificial Intelligence(AI) Blind Spot Detection (AI BSD) alerts the driver with audible alerts and visual warnings.

The system is a camera-based AI pedestrian detection system which uses computer vision technology to perform object detection and tracking.
The in cab rear view mirror monitor outlines the position of pedestrian from the vehicle thus giving the driver more confidence and helping to avoid collision.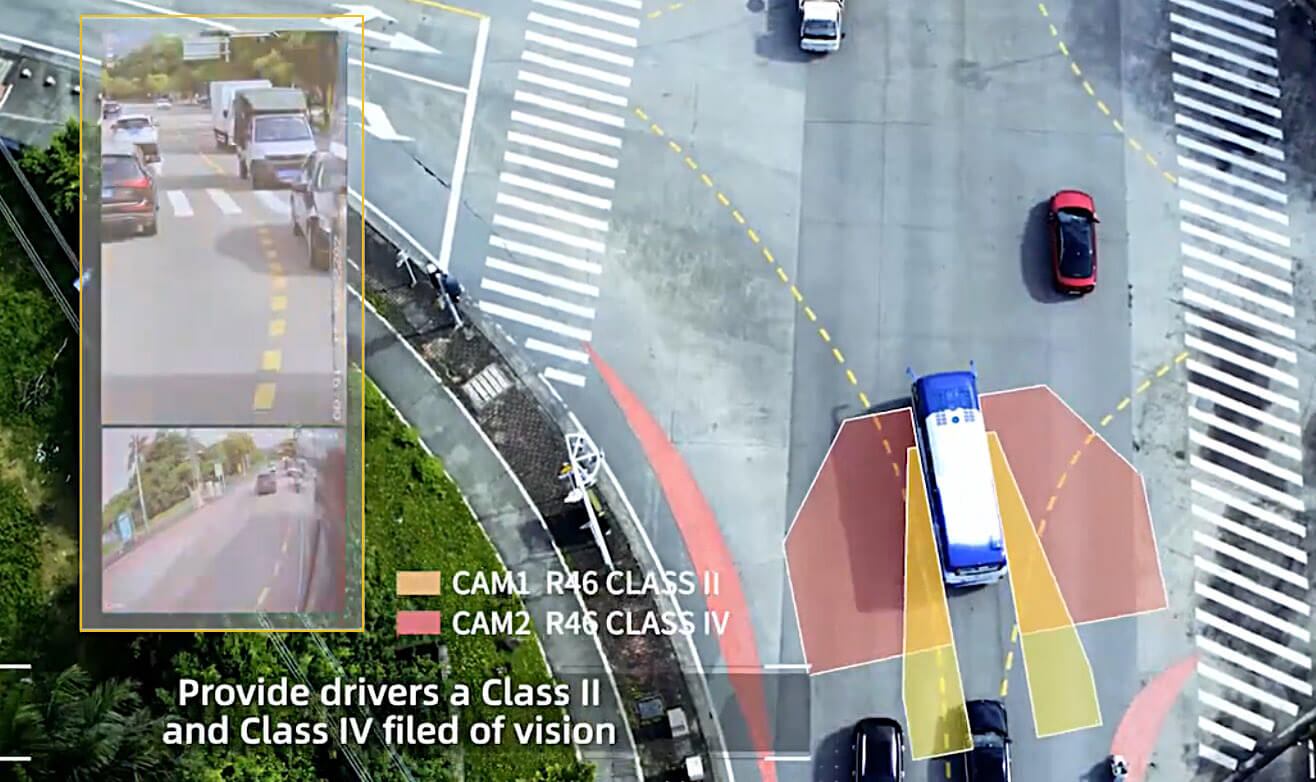 Why MirrorAI™?
Did you know that camera monitor systems are classified as a "passive safety technology"? Passive safety technology requires operator engagement to be successful. Your monitor isn't going to alert you to a person or object in your path. You have to be viewing your monitor to see that person or object. MirrorAI™ is a smart active safety system, which utilizes AI deep learning technology to identify pedestrians, cyclists, and motorcyclists.
MirrorAI™: Camera system for mirror replacement
The intelligent system provides drivers with audible alerts and visual warnings via a electronic mirror monitor at a critical situation to avoid heavy accidents with cyclists and pedestrians.
Enhances safety by providing a wider field of view than mirror classes II, IV, and V.

Poor vision in bad weather with traditional mirrors?

Rainproof film

cameras automatically adapt to changing lighting conditions and also provide maximum visibility in harsh weather like rain, snow, fog, or in the dark.

AI detection technology, which significantly reduces false alarms compared to traditional ultrasonic sensors systems.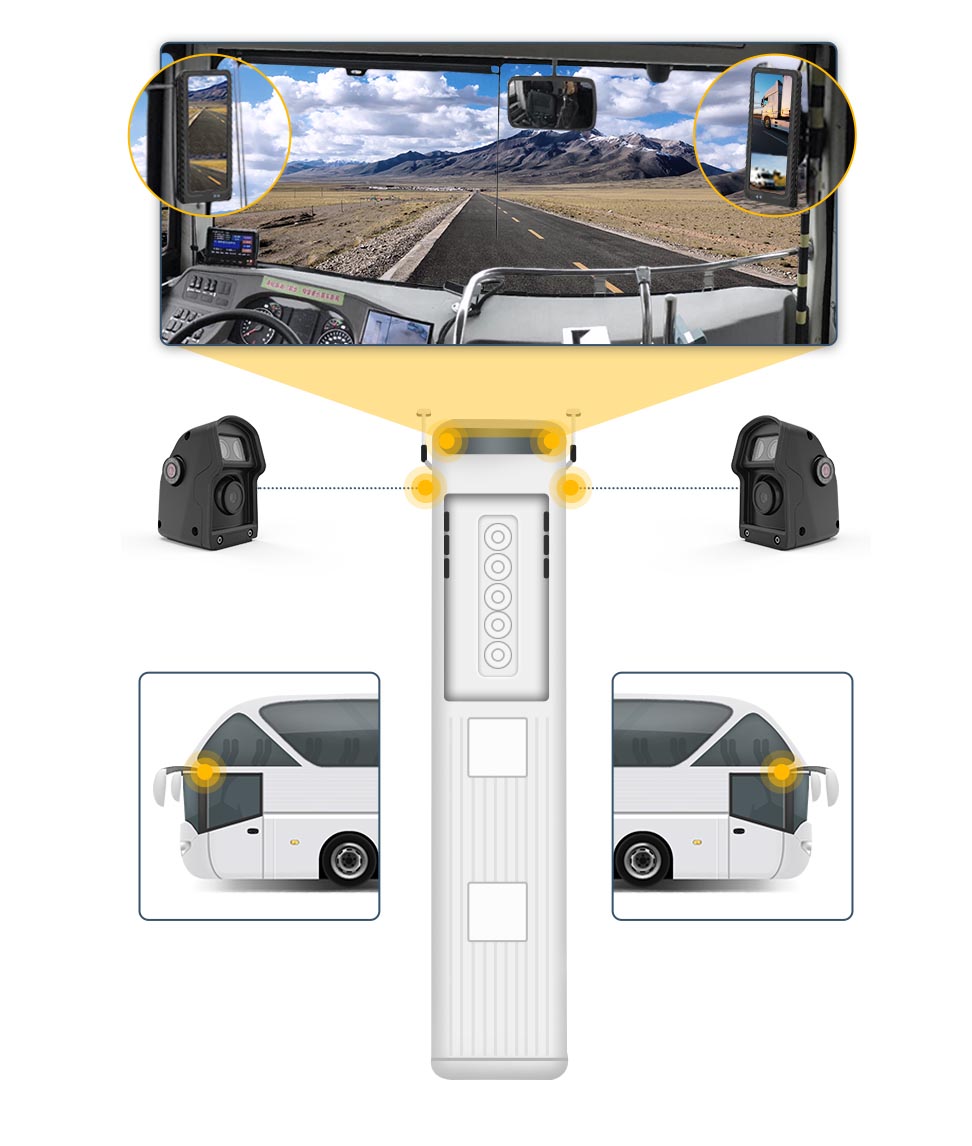 AI Blind Spot Collision Prevention System
Helps transit agencies prevent turns, pedestrian strikes
Via an in-cab monitor mounted on the A-Pillar that displays a clear, high-resolution view of what is present beyond the pillar.
The vehicle operator sees the view that exists beyond the pillar, improving operator visibility and vehicle operation, reducing agency risk and increasing pedestrian safety.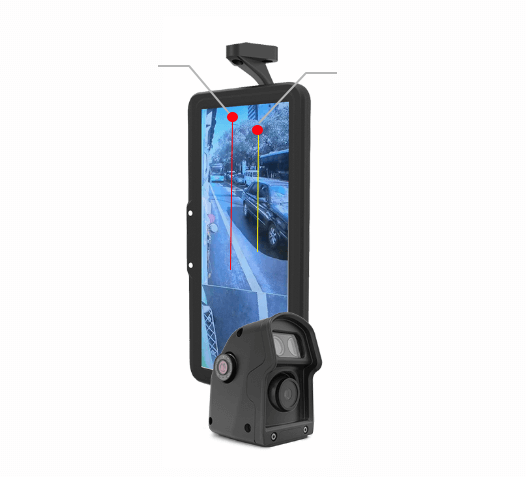 Red Zone
Yellow Zone
AI software within the monitor's ECU identifies pedestrians, cyclists, and motorcyclists, taking the distance from the vehicle into account:
>
In Yello Zone

, the system alerts the driver of a potential risk, showing an image on the screen with a yellow box around the pedestrian.
>
In Red Zone

, the system emits a "Beep" sound from the monitor, shows a visual alert marking the object on camera with a red box.
Get the right solution for your fleet today!
Commercial Level AI BSD Solution

A more advanced AI BSD system by Kocchi's
Get the right solution for your fleet today!
Not only works for bus and coaches applications. The also works for truck and HGVs applications with two separated HD cameras.
The universal arm mount design camera with heavy duty metal frame for adjustable clamps makes a flexible and quick installation possible.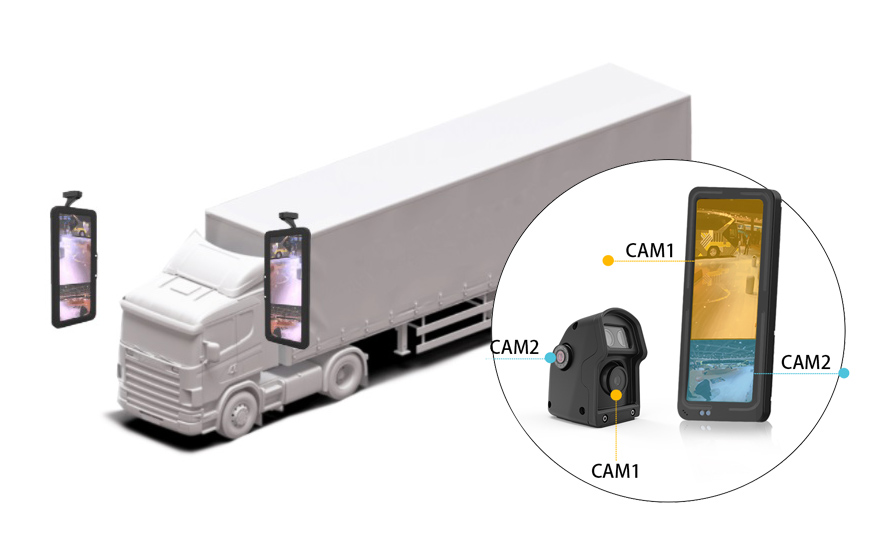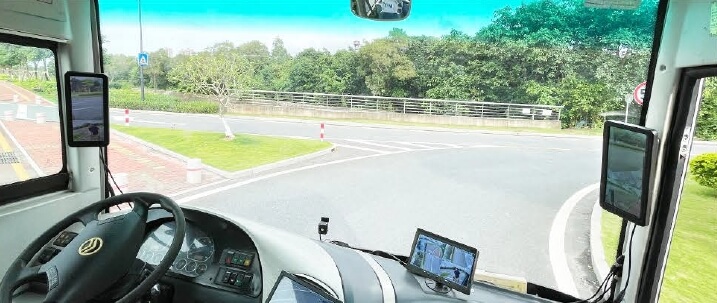 A Razor-Sharp image at all times
Compared to the traditional rearview mirrors, the MirrorAI™ electronic rear view mirror system dim automatically, which helps reduce glare and discomfort.
Display mode provides a radically improved views in order to enhance driving safety for all-weather.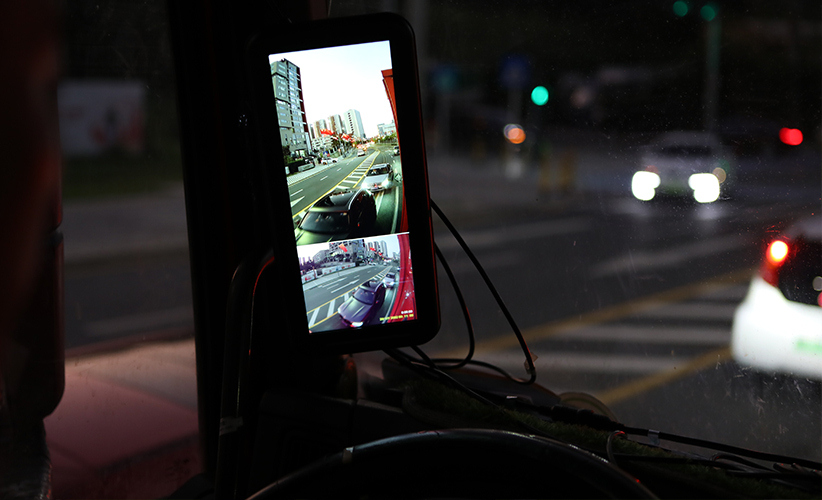 Wide Dynamic Range(WDR)
Improved image quality under high-contrast lighting conditions
With the Wide Dynamic Range camera, when strong lighting hits the camera in a dark place, the screen increases the recognition rate from the excessive exposure state for best image performance.
MirrorAI™ TF1233-02AHD + MSV20L-13JM Full blind spot assistant system including 12.3″ IPS mirror display.
Hydrophobic coating to repel water droplets on Lens
No additional blackbox or radar sensor needed
Alert only when pedestrian/cyclists are detected
720P camera, WDR 120dB & Rainproof film technology
Glare reduction to lower eye strain
12.3″ IPS LCD monitor with high definition technology
SD card (Max. 256GB), video output to external DVRs
Availability: Standard Electric Rear View Mirror or AI Electric Rear View Mirror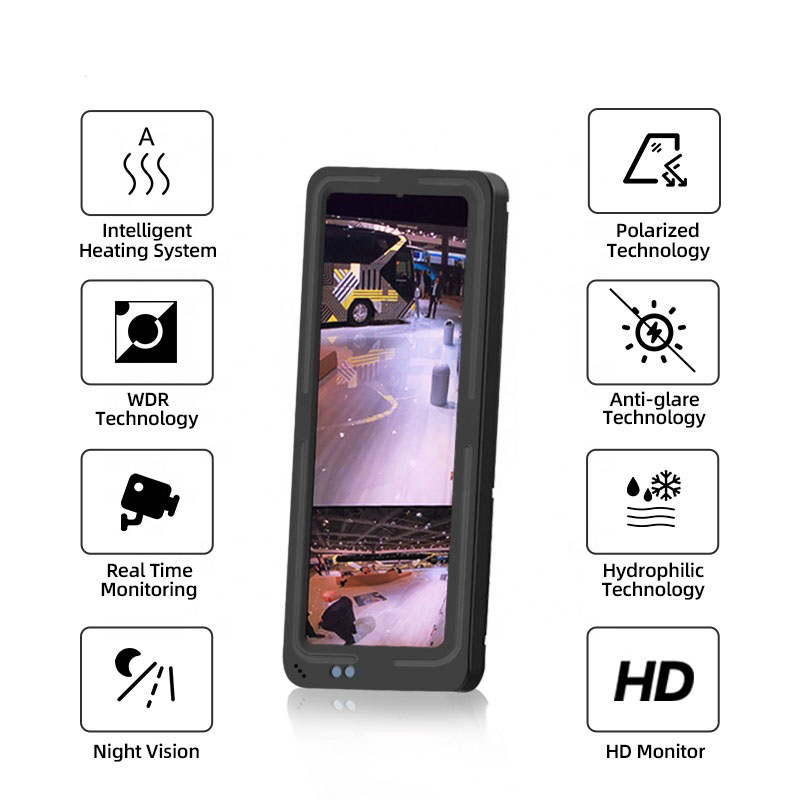 All-in-one Dual-lens Camera
The dual-lens camera offers two-channel recording with an adjustable lens to make installation much easier and flexible.
Built with Wide Dynamic Range (WDR) for balancing strong-light at day and low-light at night and defog function to improve image quality in poor environmental conditions.
* f2.5/2.8/3.6mm wide angle lens for option.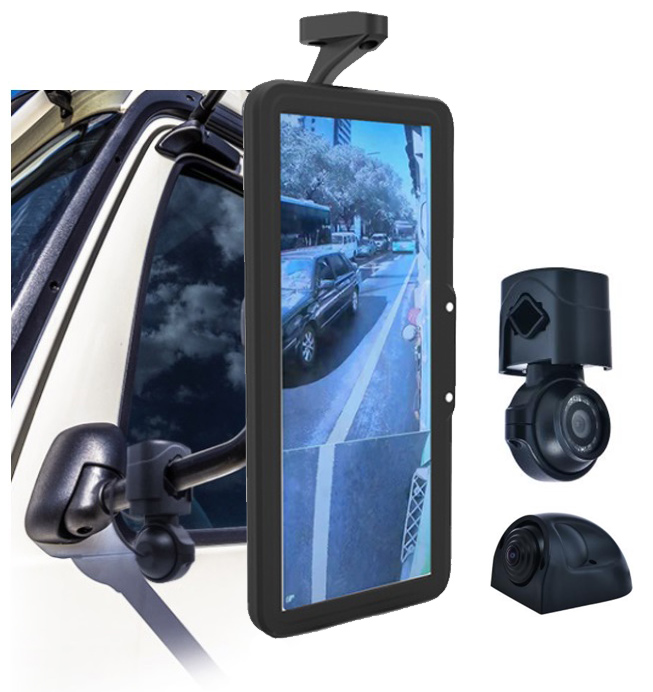 MirrorAI™
For Trucks & HGVs applications
Two separated cameras with a 12.3″ IPS mirror display.
The MirrorAI™ also works perfectly for trucks and HGVs applications.
With the universal arm mount design WDR camera, heavy duty metal frame, and adjustable clamps which makes it a flexible and quick installation possible on trucks.
Always Recording with DVR SD card (Max. 256GB), video output to external DVRs
The mirror monitor is designed with a DVR feature, SD card (Max. 256GB).
Always recording, you can capture incidents and be that second set of eyes for driver safety.
The MirrorAI™ mirror monitor also outputs the camera video signals to external vehicle DVR for recording and data backup too.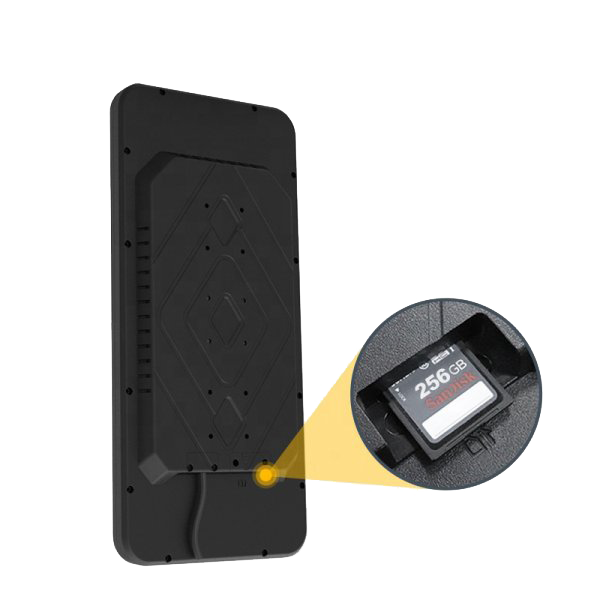 Request a Quote
Interested in becoming a dealer? For a quote, please simply fill in the form below,
our service team will get back to you within one business day.
Your personal data will be handled in accordance with our privacy notice.