Model: SurroundView™
3D 360° Surround View Camera System
Description
SurroundView™ is Next-Gen 360° car camera system which is an all-in-one device combining a surround view system, a DVR, and four ultr-wide viewing angle cameras designed for a single 3D panoramic image of the vehicle.
As you maneuver into a parking space, the SurroundView™ 360° car camera system shows nearby obstacles, helping you avoid impacts.

What is Kocchi's SurroundView™ 3D 360 Car Camera?
Kocchi's SurroundView™ 3D 360° Surround View System provides a surround view to help prevent collisions with Vulnerable Road Users (VRU's), objects and vehicles around the bus. The system has been developed to reduce collisions and increase safety. Merged fours cameras images are shown together or separately provide views to reduce blind spots and displaying VRU's and other obstacles in blind zones. This Next-Gen 360° Surround View System creates a real-time 3D scene allowing the driver to view images at any position from any angle therefore making vehicle and pedestrian recognition substantially easier. Read More: How Does 360 Car Camera Work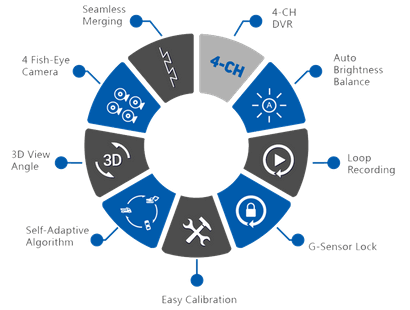 3D View of Vehicle Surroundings
Say NO to 2D low resolution video. Dual core ARM CPU and Xilinx FPGA high efficiency acceleration engine to produce 360 degree 3D HD seamless real-time video. 3D: a revolutionary system to see everything around your vehicle.
4 High Resolution 720P/1080P Cameras

This system uses four high resolutions 180 viewing angle cameras which are in high-definition with auto-aperture function that adjusts the image brightness automatically. Kocchi's uses the latest imager technology in its cameras, ensuring a good image quality even in poor lighting conditions or in highly contrasted lighting – when entering or exiting an underground car park, for example.
The screen is split into two sections: one-third of the display is for the "Bird's Eye View" panoramic, while the rest of the two-thirds show a video feed from one of the four cameras according to the actual driving direction of the car or pure 3D panoramic. This means you can still evaluate the situation while carrying out different maneuvers, such as parking, driving in a confined space or reversing.
Cutting Edge 3D Modeling Algorithm
The 3D SVM system helps provide higher levels of awareness and confidence while operating commercial, industrial and special purpose vehicles. This system is improved & quite different from others(
2D

 plane modeling, low resolution), which supports WDR full HD(720P) true 

3D

seamless video merging of surroundings.
Cycle Recording
The "Real-Time Cycle Recording System" records the 4-channel 720P images while a vehicle is in operation using microSD(maximum 64GB) or external USB memory. When the recording time reaches the memory capacity, the system continues to record by erasing the oldest recorded information.
Easy Calibration
Quick in-field calibration availability and no mats/PC tools are needed. Only some tapes are needed for calibration.

Better images merging algorithm and image quality. Our merging algorithm can improve merging success rates(Some systems will turn into black screen after improper calibration). SurroundEye™ 3D 360° Surround View System will be able to correct and show straight line without being deformed for good images.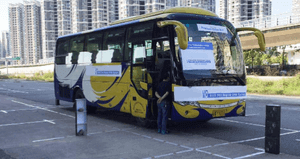 Case No.1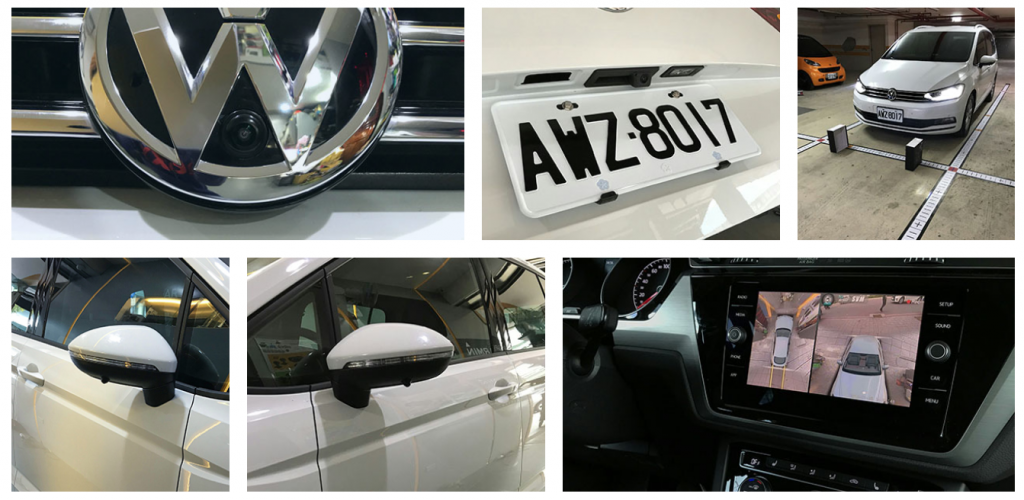 Case No.2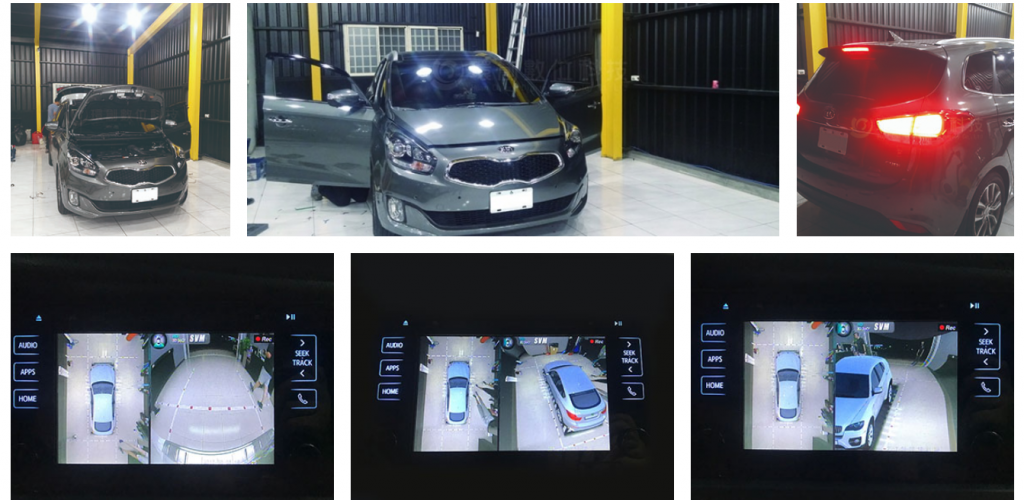 Still looking for something?