Camera systems for forklift trucks
In warehouses and distribution centers, efficiency is a critical term. All forklifts must have the highest level of protection and performance in order to ensure high productivity. Forklift operators can accomplish these objectives with the aid of Kocchi's forklift wireless camera monitor systems, which provide the perfect vision solution for all types of lift trucks.
Furthermore, our forklift cameras improve driver comfort by eliminating the need for drivers to turn their heads and necks to view loads, shelves, and aisles. We create high-quality, professional vision solutions for any situation in order to improve safety, performance, and comfort.
Forklifts play a critical role in ensuring that the activities in the production chain continue without any interruption. The operators and other parties involved have to put in lots of effort to ensure that there are no mishaps or accidents. Our wireless forklift camera system ensures operator will be able to view everything around the forklift through the screen. Being wireless means that there is no physical connection between the cameras and the screen.
AVOID COLLISIONS

Improves the safety, since the operator has a clear and visible view of the work area in front of the forklift.
IMPROVES ERGONOMICS

The ergonomically-positioned monitor helps relieve neck strain, allowing drivers to look at the road at a comfortable, natural viewing angle.
MAXIMIZE OPERATIONAL EFFICIENCY

forklift camera would help you see an instant payback because of decreased harm and enhanced performance.
PROTECT VEHICLE ASSETS

Improve driver visibility that lowers reversing or driving accidents
Fork View
Kocchi's Fork view camera allows you to quickly and accurately pick up pallets. You can see if the fork is placed correctly on the display thanks to a camera mounted on the inside of the right-hand fork. This makes it easier to avoid inserting the forks wrongly and increases protection when picking up or putting down pallets. By reducing harm, increasing performance, and improving driver comfort, this device pays for itself.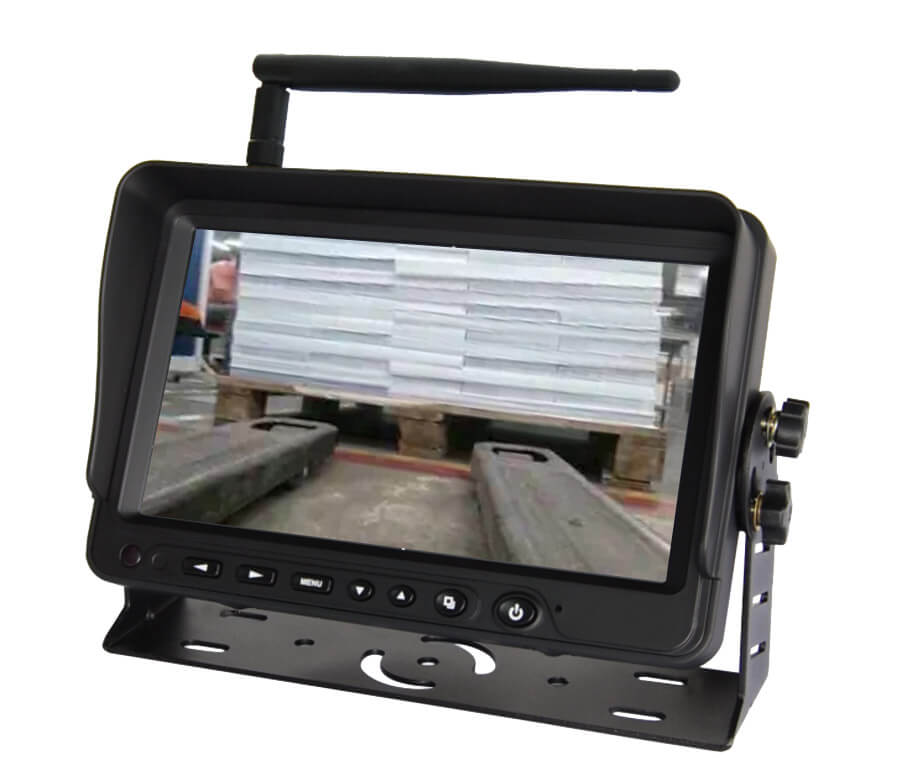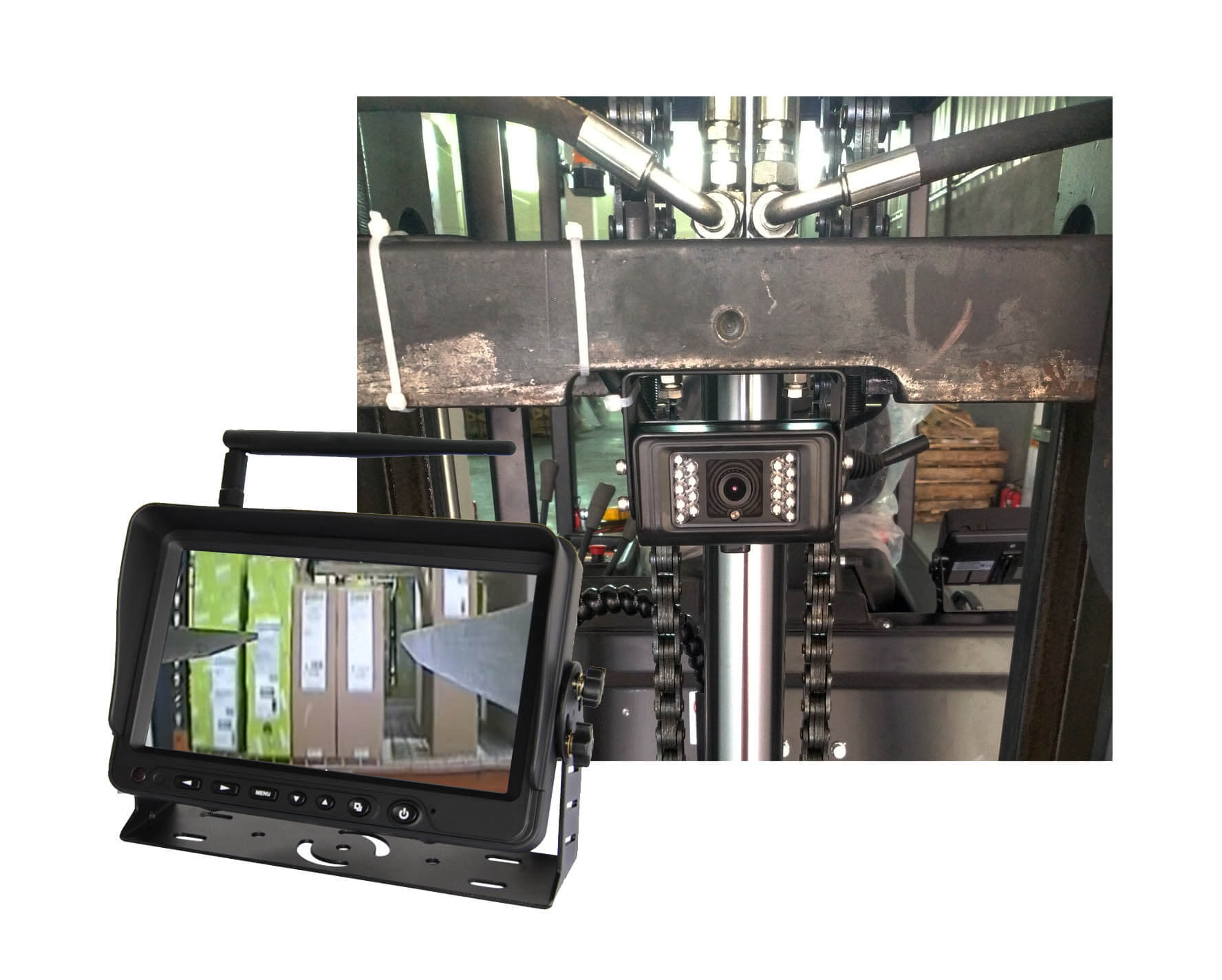 Mid-mast View
This feature allows you to have a mid-mast view of the forks or front-end attachment. The camera system makes it simple to see over the load, allowing you to put it down or pick it up correctly on the first attempt. The overall benefits of having camera video feed are increased productivity and help you to work more efficiently.
Rear View
With rear-view camera on your forklift, you can gain a better view of the working area to the rear of the lift truck and drive more safely when reversing. This allows you to avoid damage to the forklift, warehouse, goods and people. The monitor in the cab switches automatically to the rear view when reverse gear is engaged. You can also set the system to continuous or manual operation.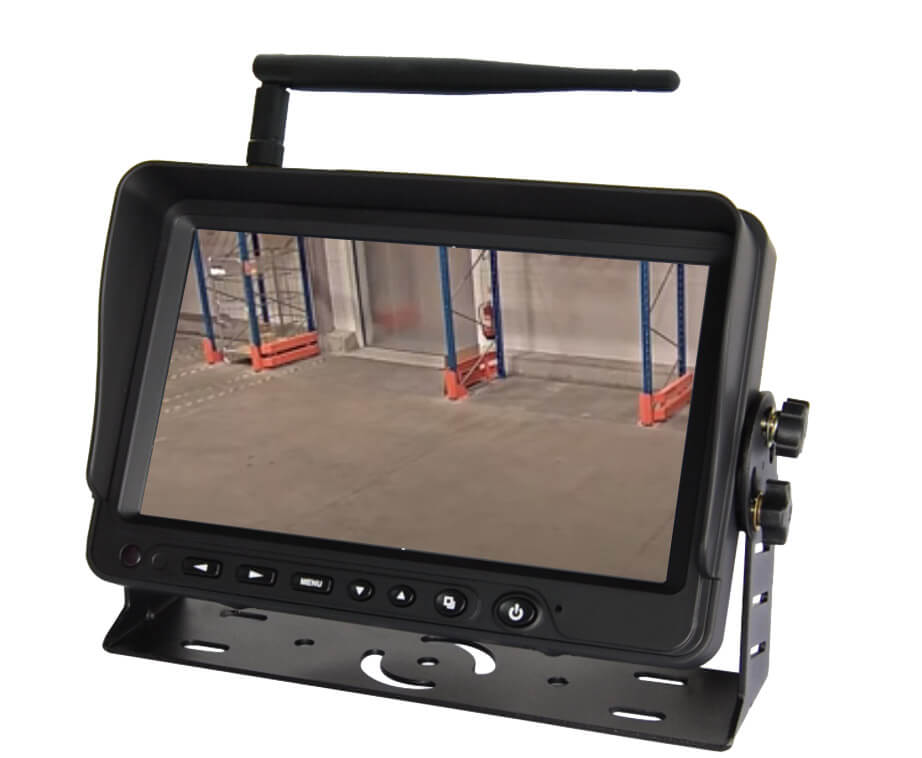 360 Degree Camera for Forklift Trucks
If a pedestrian walks into the "blind spot" of a forklift truck, there is potential for an accident to occur.
The "360 Surround View" system for forklift by Kocchi's goes one step further than this. The image display is still based on live data from cameras mounted around the truck, but instead of images from all cameras, the system generates a single 3D panoramic image of the forklift.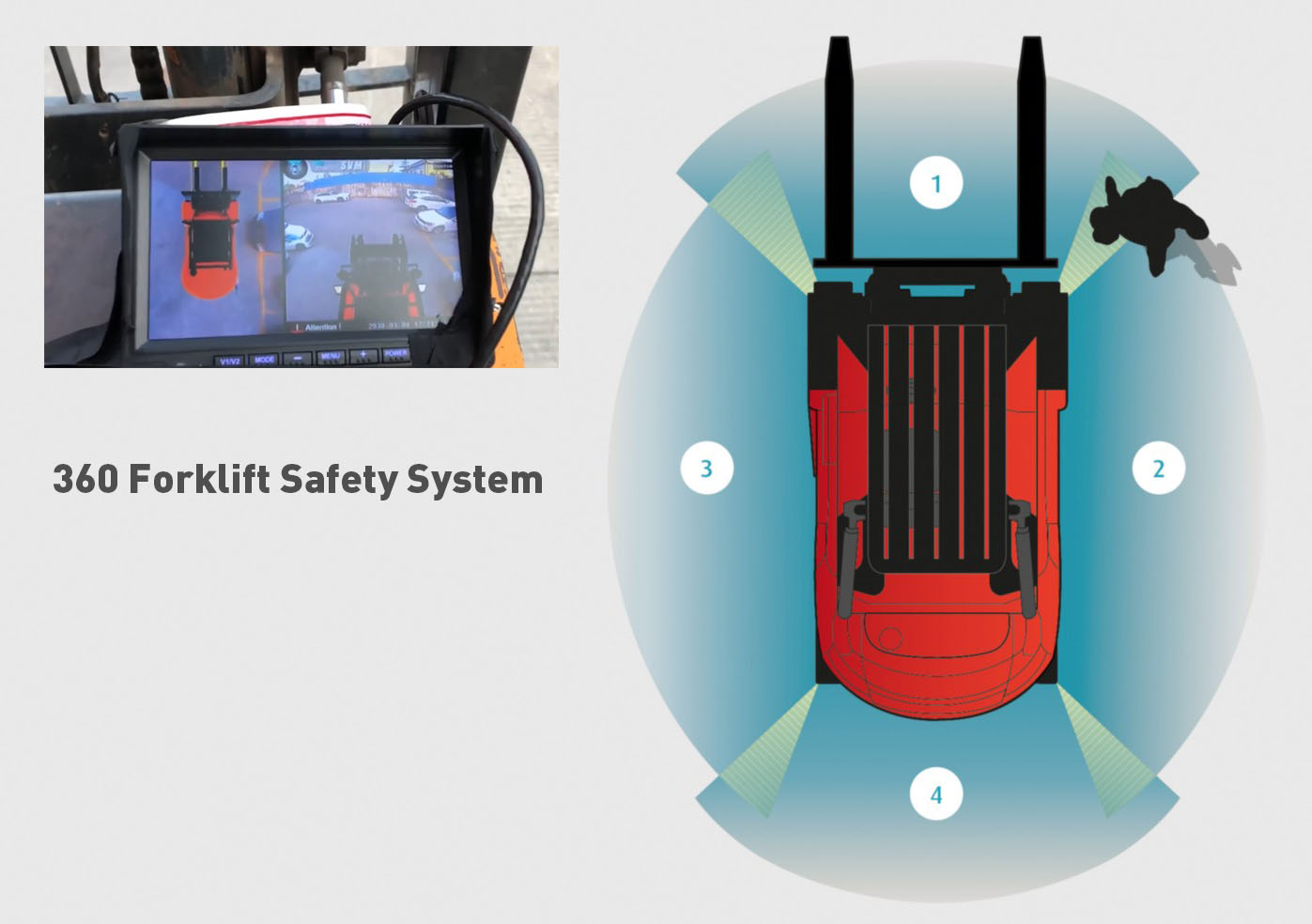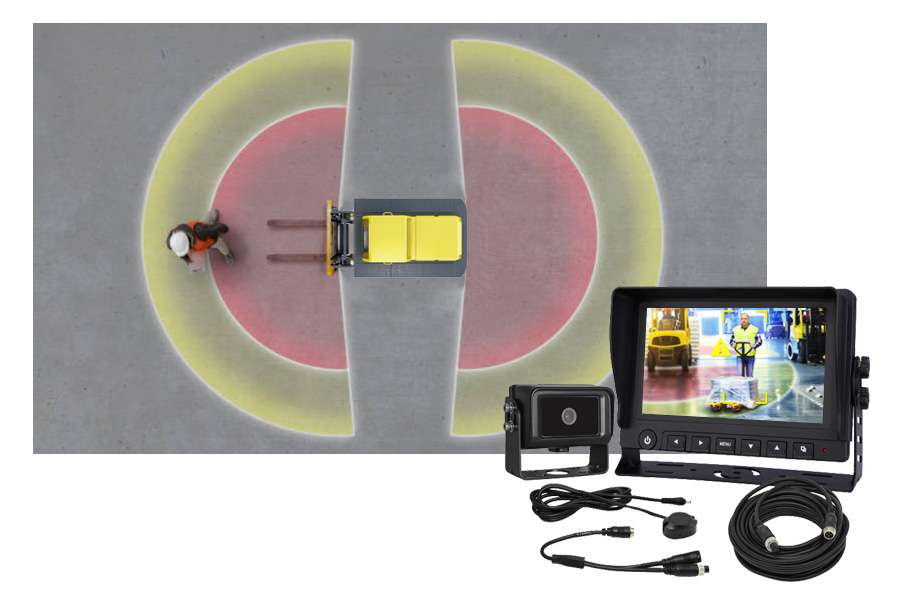 A.I Pedestrian & Vehicle Warning System
The Kocchi's AI Pedestrian and Forklift Warning Camera System is a cutting-edge artificial intelligence (AI) camera technology developed to help industrial vehicles such as forklifts avoid accidents and damage.
This AI camera system alerts operators to potential risks and imminent danger, assisting in the maintenance of a safe work environment without the use of specific badges or clothing. Learn more →
Discuss your next project with us
Do you have a project or installation? Whether you are looking for standard specifications forklift camera to suit your needs, or specialized forklift camera system to solve unique challenges, we can help.
We're always happy to talk through your ideas and requirements. Ready to talk about your next project with us?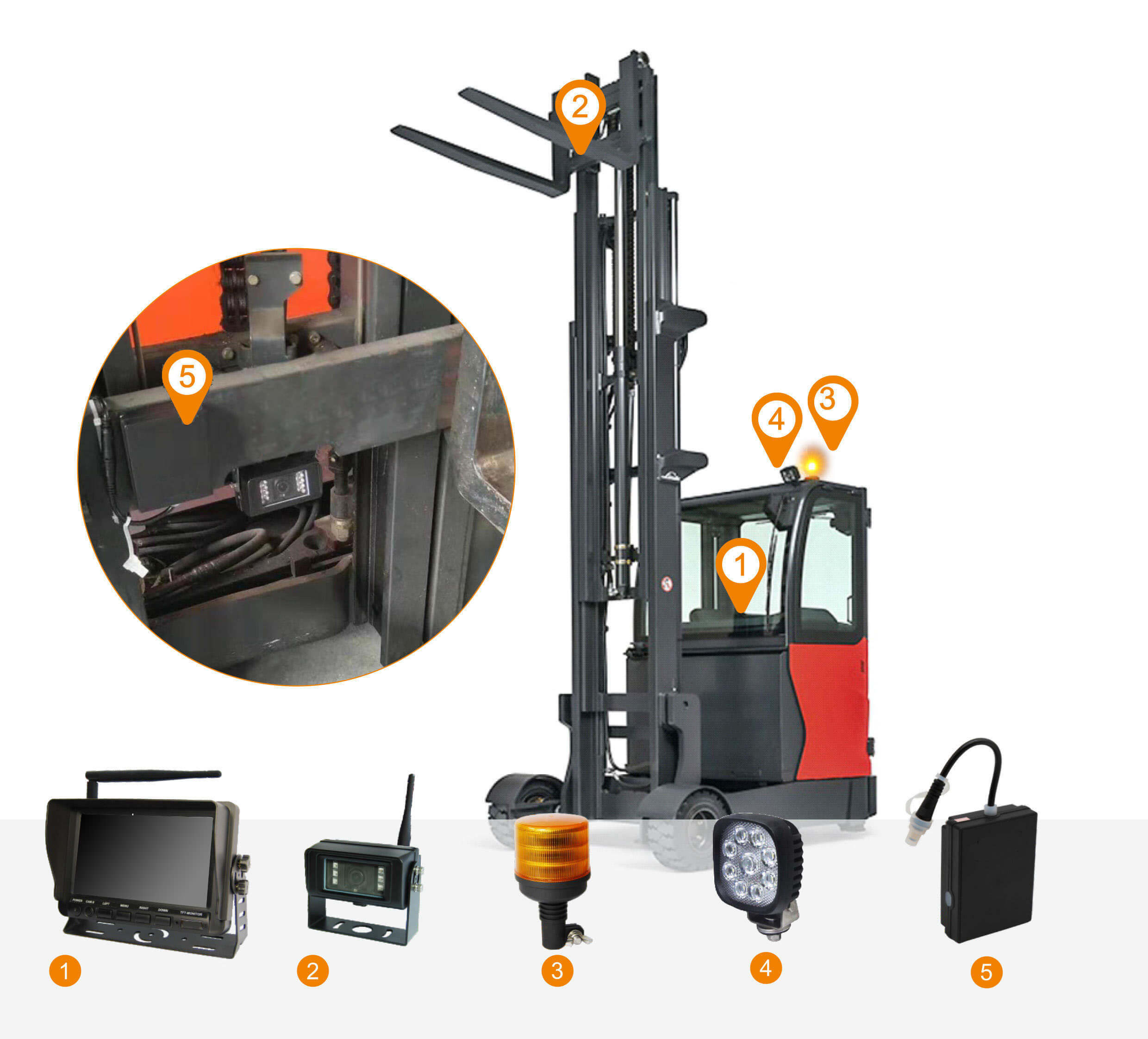 Custom Vision Solutions
In addition to the standard vision solutions described above, Kocchi's forklift camera monitor systems can be combined or modified in a variety of ways.
For more information about our custom solutions, contact our specialists.

Want to Accelerate Your Business?
More reliable, simple, affordable than any other system in the industry, the Kocchi's® Commercial Vehicle Camera System for forklift trucks offers unbeatable value with an unrivaled combination of features at an affordable price, allowing you to increase safety and reduce liability on more of your fleet's vehicles.