Kocchi's is dedicated to becoming your cutting-edge truly rugged, vehicle backup cameras, LCD monitor and DVRs solution manufacturer and supplier. We have 14 years experience in manufacturing cameras and LCD monitor solutions for a wide range of industries and applications.
We were founded in 2007 as a pioneer in truly rugged backup camera systems for commercial vehicles and heady duty monitor 5″, 7″, 9″, 10″ video and touchscreen interface device manufacturing.
We strictly comply and bring the highest worldwide vehicle safety standards in the entire industry. Our products go through TS16949 quality system and proceed with exhaustive field tests in real-world environments to ensure highest quality. We're proud to win major market shares by providing the highest quality products and services to our partners worldwide. Earning trust from our partners has led us to become the fastest-growing rearview camera system supplier on the market. That's what we do every day here since 2007.

Our Corporate Mission
To enthusiastically and aggressively approach any opportunity to utilize our brain trusts, facilities, strategies, alliances and capital for the advancement of our employees and stakeholders. There will be no limitations as we strive to create, innovate, manufacture and deliver high quality, good value products not only to satisfy but also astonish our customers. By following our vision and attaining high levels of honesty and integrity, we will experience the joy of competition and winning.
Quality Control
We take product quality as our core business philosophy, to establish a consumer-oriented quality management and inspection system, get consumers involved at each stage of product development, product production, product testing and product use. With a commitment to quality over quantity, Kocchi's continues to be the leading manufacturer of vehicle safety systems. For over 10+ years Kocchi's has continued to design, engineer and produce the most innovative products in our industry. We continue to keep the custom integrator and end-user in mind when developing time-saving and factory-finished products. From the simplest of parts like connectors and splitters to the most advanced car vision and DVR solutions, we have our customers covered

Reflection of Standards
Kocchi's has been introduced of advanced production facilities and reliability test equipment. Compliance with ISO/TS16949:2009、EMC、FCC、ROHS、E-mark IP69K、MA、Observance of SAE J2012、JASO D 001-94、ISO9141、14230. Our rear view monitor and camera have Design Patent、Model Patent, and also get the ISO/TS16949:2009、IP69K、EMC、FCC、ROHS、E-mark、MA.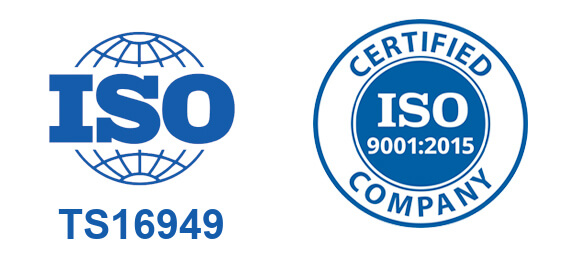 Sorry, your browser doesn't support embedded videos.
When you need quality, reliability, innovation and performance, depend on Kocchi's. We're the preferred OEM/ODM manufacturer in China, who specializes in researching and manufacturing camera monitor system and DVRs for commercial vehicles.
Kocchi's designs in-house and is a manufacturer of the most advanced and rugged camera monitor solutions that provide cutting-edge performance and reliability in the most strenuous and harshest of environments for commercial vehicle applications.
We can develop standard camera systems or heavy-duty, wear-resistant, shielded devices for industrial or agricultural equipment and more. We have full optical bonding capabilities to complete project requirements and maximize display optics and durability. Kocchi's can help you create the solution you need.
All of our camera monitor solutions are manufactured by our own factory in Shenzhen, China in ISO9001 and TS16949 certified facilities. In addition to our current camera system product line, we provide OEM customized display solutions to customers looking to create a new market incorporating these cutting edge display and video technologies.
Manufacturing Rugged Backup Cameras in our Shenzhen, China Facility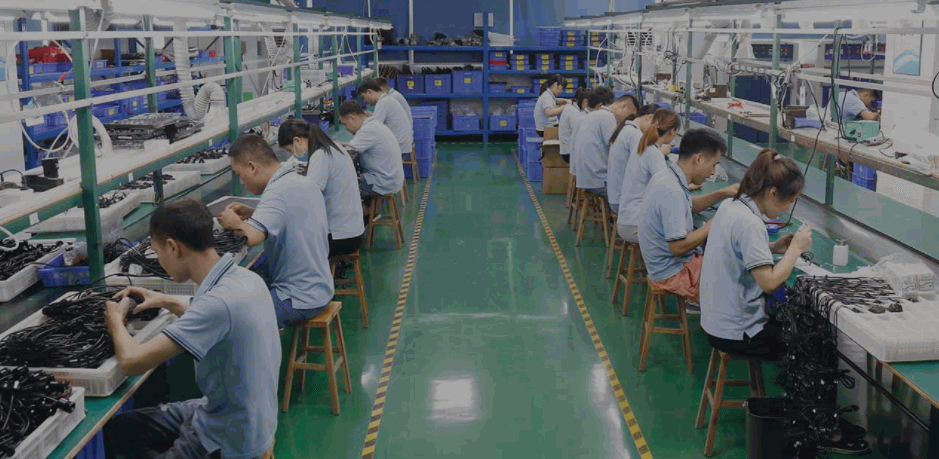 Manufacturing Facility
We have a bright and neat workshop, a well-organized production line, and a storage warehouse that can accommodate a large number of products. In manufacturing, we adopt a strict lean quality management, which really achieves process standardization, production systematization and continuous quality improvement.
Full ability of rapid solutions, timely delivery and perfect pre-sales, sales and after-sales service, so that you have no worries about your choice.
Production Equipment List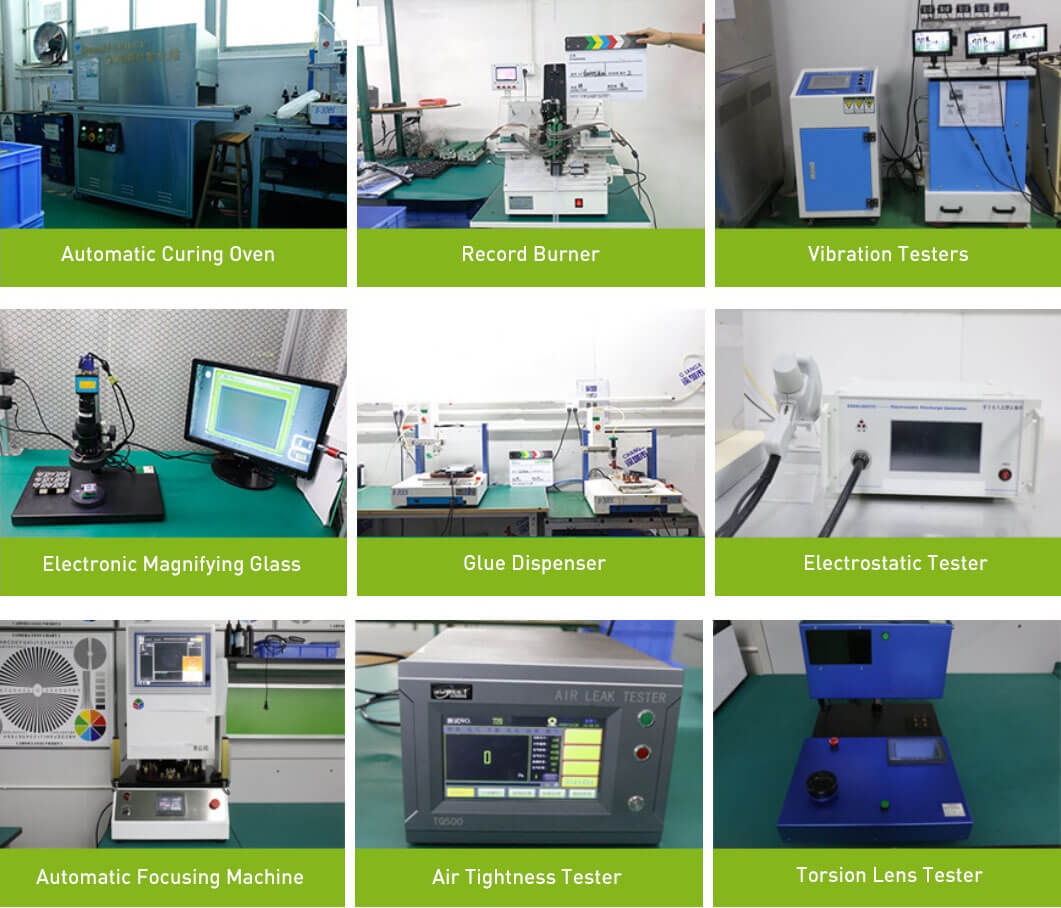 Exceeding industry standards isn't just an expectation at Kocchi's. It's a requirement.
Each product before mass production, we will carry out as many as 60 tests on it, involving all aspects of construction, materials, electronic magnetic, optical, and other products related to reliability and safety, striving to resolve the risks in the factory. In addition to meeting all the domestic industry standards and national standards, we have added additional 30 more tests.
140 bar test process for the corresponding test of IP69K
Industry standards and national standards can only meet the basic requirements, but we seek to provide customers with higher than they expect the product, leading quality products of the industry. So even if the additional test increases our cost, we never hestitate to do that. We have been adhering to a philosophy that is to provide consumers with high-quality and safer products.
IP69K close-range high pressure , high temperature liquid sprays test
3D Simulation
3D design for minimizing design error and distribute assembly drawing(production working instruction activity).
Tolerance management considering waterproof & vibration. Lesson & Learn history management from the field's feedback.

LED Work Light Camera Quality
High-intensity LEDs and Hybrid Wide-Angle Optics Lens or Reflector offer ECE R65/SSAE Class1 Light Output; Die-cast Aluminum Shell + Alloy PCB and Low Power Consumption Circuit Design ensuring good heat dissipation and electrical performance stability; Electronic glue potting and pressure relief valve ensuring IP69K waterproof reliability; High precision polishing PC lampshade ensuring highly light transmission and impact resistant.

Constant Temperature / Constant Humidity Test
Verify the products of function & appearance testing from -20 degree C to +70 degree C. Validation in pre-production stage and sampling inspection during production for preparing use of low temperature, high temperature & high humidity.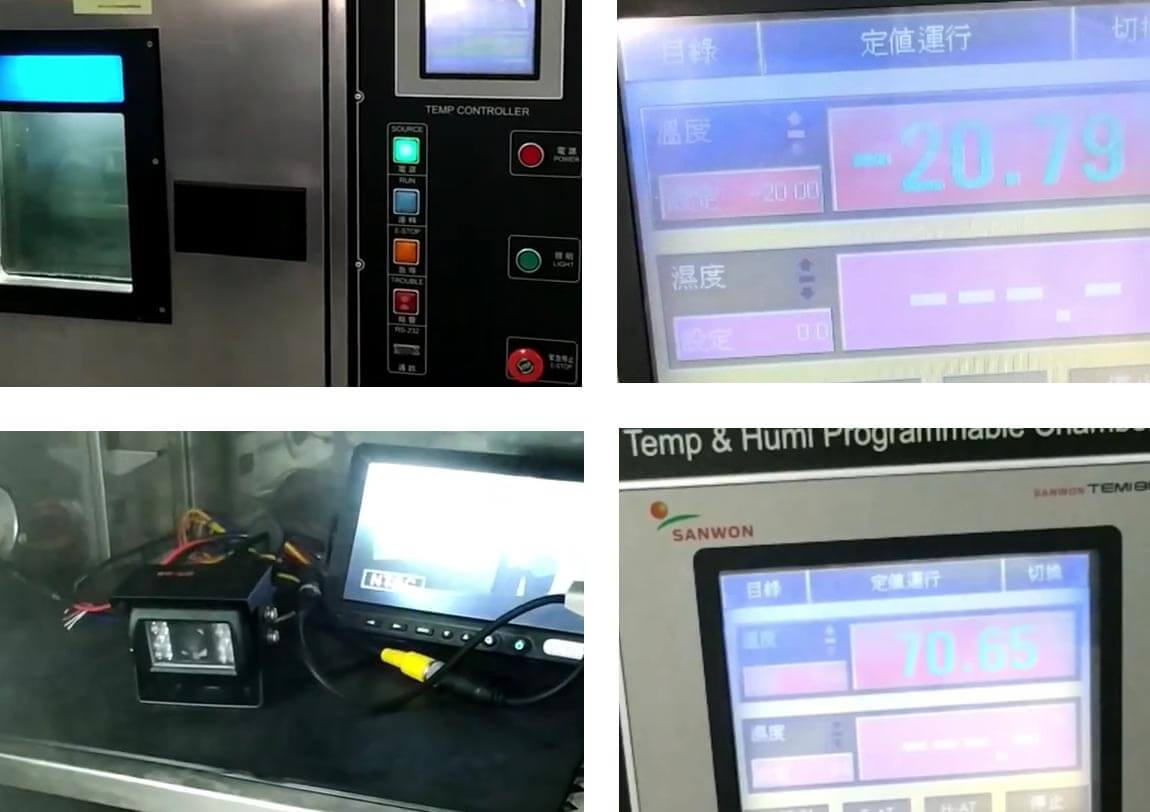 Vibration Test
Proceed the vibration test which can meet standards of Hyundai motors ES96000-00, General motors W14011and JASO D001-94 through external test laboratory.
Making our own vibration test equipment for proceeding the test. Test result of automatic program, record management & automatic storage compared to vehicle driving conditions.
Optical Axis Correction
Total inspection & remediation for having right optical axis which can meet our control standards as it is possible to have wrong focus & wrong optical axis because of twisted optical axis when assemble and secure lens & lens holder(manage pixel).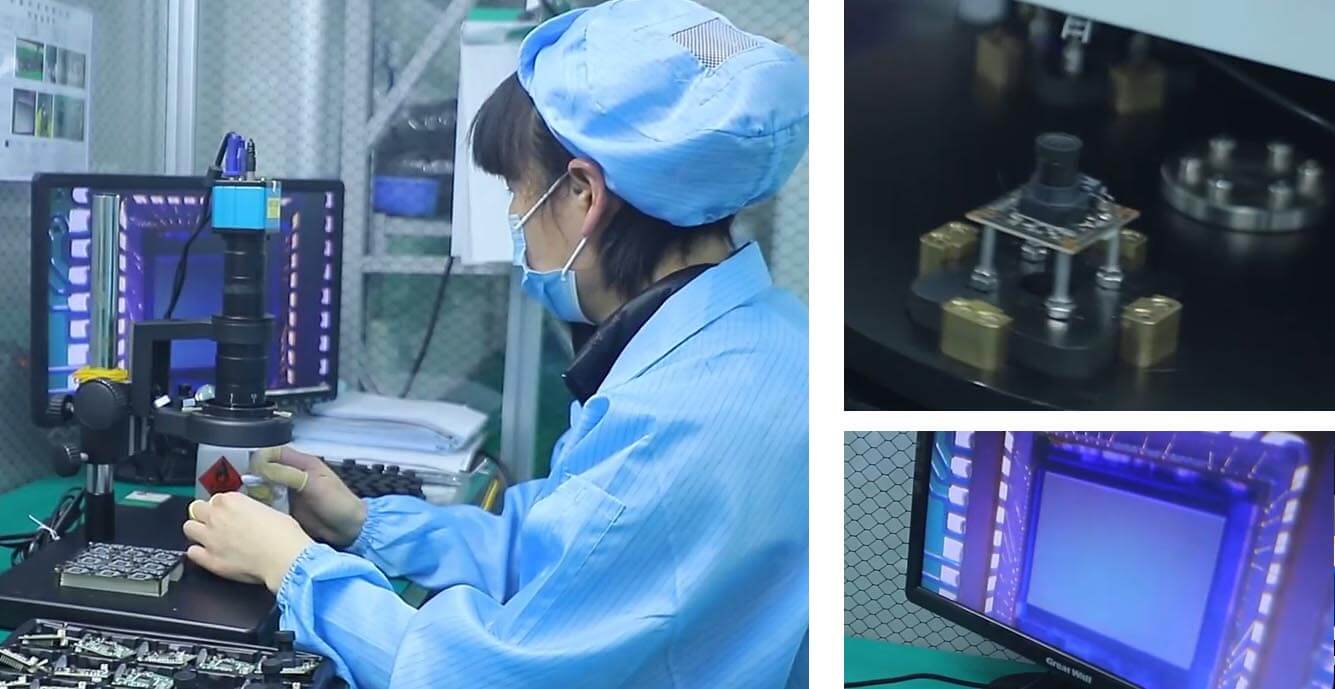 Automatic Focusing Inspection
Digital test equipment for determining pass & fail of focusing tolerance by camera focusing operator in production of the camera.
Possible to produce equal quality products & equal performance products running camera performance evaluation lists. Also, possible to produce each customer's camera specification

Automatic Aging Inspection
Sorting out faulty products through 8 ~ 24 hours operating test in order to minimize progressive failure & components matching failure. All products are checked by automatic monitoring equipment.
Progressive failure : appear as time goes on due to instability of PCB mounted components.
Components matching failure: appear due to pile tolerance of each component.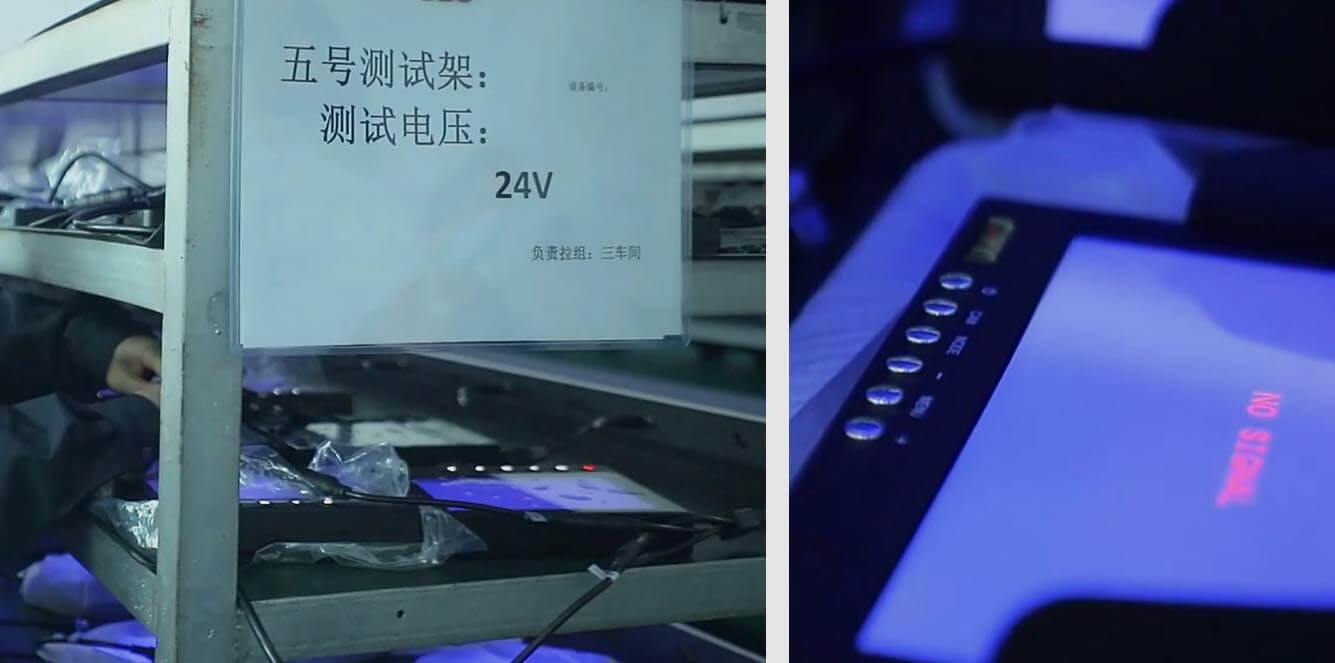 ESD Test
Products test by ESD simulator in order to prevent any errors in the field.

Electrical Test
Simulating various electrical test in order to minimize failure rate in the field as there are various of vehicles & different power consumption environment(such as Crank start, Reverse polarity and so on).

Package Processes
We always package our products according to the standard carton package. We provide installation instruction and installing bracket for product. We also paste QC label for every product package.
Of course, according to the actual needs of products applied installation, if our clients have their requirements about packages, we also provide custom-made service in package, design, structure, function and so on.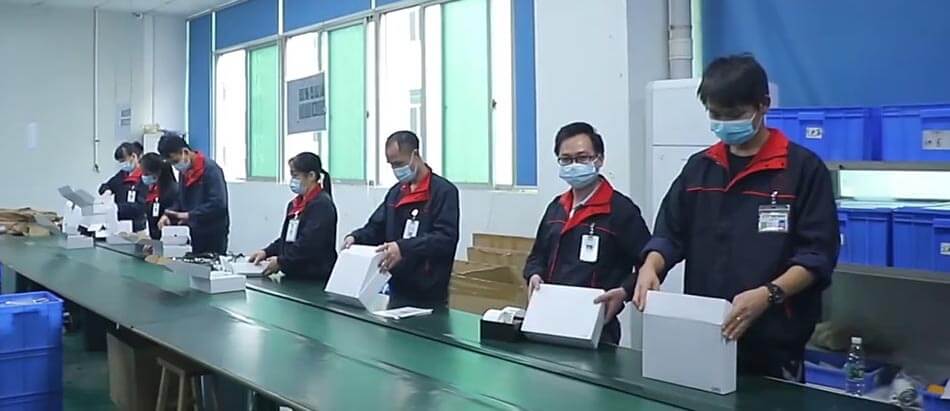 Technical Expertise and Experience  
Many "manufacturers" today are essentially resellers that just markup and resell products from low-cost suppliers or outsource manufacturing to third parties. Kocchi's has 14 years experience in creating and pioneering the high performance and rugged camera and monitors.

Kocchi's is a real robust camera system OEM designer and producer with two wholly-owned and vertically integrated manufacturing facilities. We can manufacture everything from low-volume high-mix to high-volume repeatable custom solutions. We can produce custom touchscreen screens to fit your exact specifications or you can consign from your own suppliers.
Sourcing and Supply Chain
Because the BOM ("Bill-of-Material") cost is usually a significant portion of the total cost to your product, our capability is to effectively reduce these costs for you. Since we purchase significant quantities of components and material from our suppliers daily, we have the flexibility to aggregate orders from all of their customers to obtain volume discounts and preferred pricing.
Furthermore, Kocchi's has access to substantial financial credit facilities that enable them to purchase bulk quantities of parts and materials at the best possible terms.
How is Kocchi's Different?
By leveraging the most advanced technology available and applying a constant stream of customer feedback, Kocchi's has been awarded multiple patents for sophisticated innovations, and our specialized team of engineers and technicians resolve most product issues during the initial phone call or email conversation.
Kocchi's products are designed by us to exacting specifications to ensure precision performance, long life, and satisfying service. The company was founded by product design engineers whose passion for technical design continues to drive company operations today. Kocchi's employs the best product development staff in the industry and provides them with the latest software and equipment to ensure product designs perform at the highest level of satisfaction for our customers.

Products Industrial & PCB Design
Engineering Team
Our team all have different backgrounds and qualifications, and are experts at what we do.
The stability of our design team is critical to the efficient development of your product. Most team members have been working together for more than 7 years. And we're continuing to welcome new engineers each year to the team for fresh ideas and expertise.

If you need bulk pricing or would like to become a distributor of Kocchi's technology, click here to contact us.
Your Manufacturing Partner
To guarantee reliability and quality, our products are extensively tested. In addition to ISO 9001, Kocchi's has implemented IATF 16949: 2016: the quality certificate for the automotive industry. Partner with us today to create new products or alter an existing product for your business.