HD 4CH Live Streaming Media Rear View Mirror Camera System | DVR Recording
Description
The Kocchi's StreamVu™ camera mirror system delivers the ultimate surveillance and protection for the back of your car with reverse, live streaming, and recording capabilities.
The rear viw camera mirror monitor, which has a super wide 10″ high-resolution touchscreen and a FULL HD 720P front view camera, conveniently install for simple unobtrusive viewing.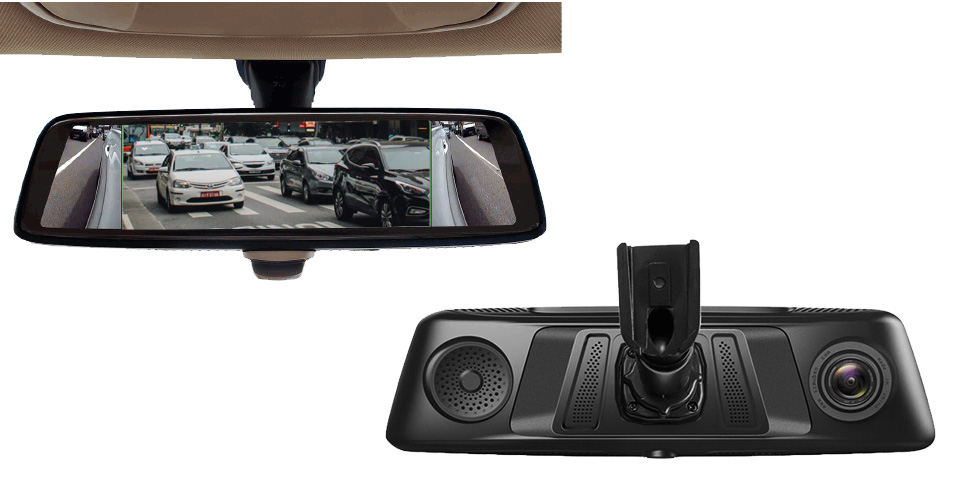 Why StreamVu™ Mirror System?
Optimum Your Views
The mirror monitor gives a much enhanced rear or side view from cameras to increase your driving safety. Headrests, baggage, C/D pillars, and other obstructions do not obstruct your vision any more.
Mirror Working Mode
Mirror mode serves as a permanent backup option in the event that the camera or display becomes inoperable.
Elimination of Glare
Elimination of glare – Full auto-dimming capability to protect the driver's eyes from high beam lights or headlights constantly shining and reflecting back while driving, it is exceedingly unsafe.
All Weather Conditions
Traditional rearview mirrors rely heavily on clean glass to offer an optimally clear image to drivers.
The StreamVu™ digital rearview mirror operates in all weather situations since the camera is placed outside the car rather than inside.
See More Than Ever Before
Kocchi's StreamVu™ mirror camera system is here to let you see things you've never seen before, resetting your driving experience.
This flexible system replaces your existing rearview mirror with a full HD video screen that is live streaming.
What's more, right and left blind camera could automatically display when you make your turn, which could help you with lane changing or see through your blind spot while parking.
Touch it. Control it.
This Dash Cam mirror monitor is designed to feel like second nature, and make everything feel more responsive.
A single swipe to control the driving vision and screen brightness, one-click to switch side & back cameras. It's that easy!
Capture All 360 Degrees of Truth
Capture all 4 cameras and record while you drive. This system also puts you in control of how you view your videos.
Watch and control recorded video with multiple split screen modes. See everything happening at once in split screen mode, which shows you front, sides and rear view.
Discuss your next project with us
Do you have a project or installation? Whether you are looking for standard specifications camera to suit your needs, or specialized mirror camera system to solve unique challenges, we can help.
We're always happy to talk through your ideas and requirements. Ready to talk about your next project with us?
Still looking for something?