Model: M790-810 RV Camera System | 1080P RV Rear View Camera | 1080P Side Camera | 7″ HD Monitor
Backup Camera Systems for RV, Motorhomes and 5th Wheel Safety
It's important to see what's going behind your RV. So you need our backup camera systems for RV, motorhomes and 5th wheel trailers.
Kocchi's RV camera system delivers valuable wide angle views and greater awareness of traffic positioning. We're committed to industry leading product lines, manufactured for dependability. Our high quality motorhome backup cameras protect recreational vehicles from dents, damage and unsafe maneuvers.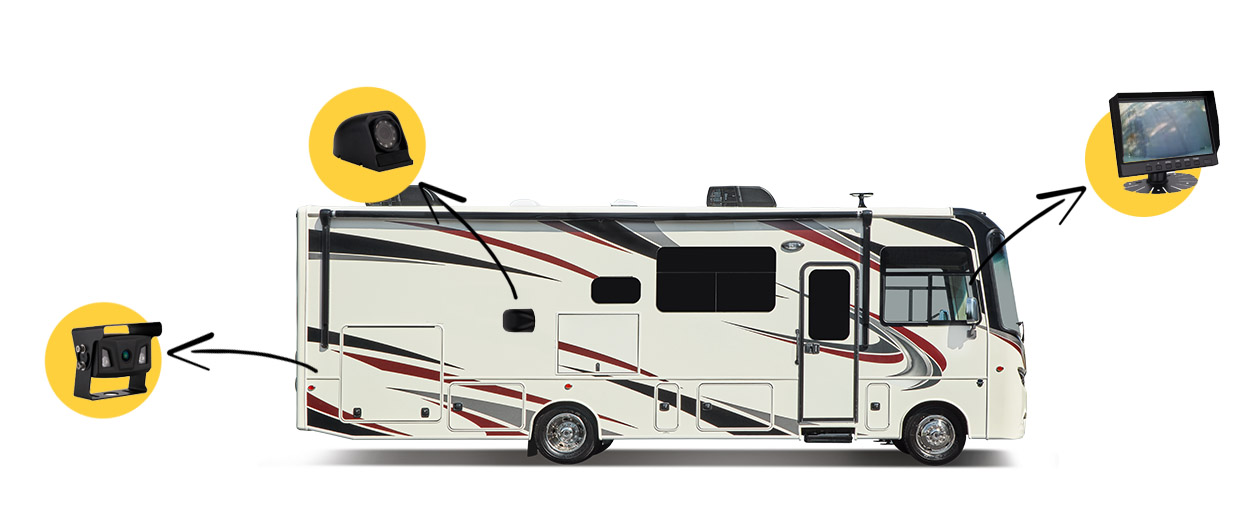 AHD Quad View Monitor
The Quad view monitor is full of characteristics and supports AHD 720P/1080P cameras. Its design is robust and stylish, with large buttons that control its settings.
This monitor features integrated speakers, a parking grid, a Quad View Display and especially its HD LCD panel for sharp images.

RV Backup Camera
This color AHD RV backup camera is built with heavy duty alloy metal which encases the 2.8 mm Sharp lens. It has an ultra wide viewing angle of 150 degrees and 1080P resolution, which means you get the best quality image with no blind spots.
With a top IP69K rating, this rear view camera will be fit to ride out any storm and is also equipped with a 17.3G vibration rating for lasting performance.

Flush Mount Side View Camera
This included color AHD RV side view camera is very small and aerodynamic, making it nearly invisible. It has an ultra wide viewing angle of 150 degrees and 1080P resolution, which provides you the best quality images.
The camera cab be mounted flush on the vehicle. Our Side Cameras are completely waterproof with an IP68 rating, and come with heavy duty Aircraft Grade Cable Connections.

M790 Rear View Monitor x 1

Center Mount Bracket x 1

Fan-support Bracket for Monitor x 1

Trigger Wire x 1

U-support Bracket for Camera x 1

16ft/33ft/66ft Extension cable x 2

User Manual x 1
The optional quick connect/disconnect kit allows you to separate your 5th wheel trailer as simple as unplugging the lights of the trailer.
This cable kit is what you need to install the camera on the rear of the trailer and run two 4 pin wires to the cab to connect to the included 7″ Full High Definition monitor.

A great optional addition to this wireless monitor that needs a 12V power and ground using a plug. This heavy duty 12V cigarette light will work with any car. The longer cables allow you to find a comfortable spot when wiring.

Camera systems you might be interested in