Model: KC-022A License Plate Backup View Camera
Description
Now you can be assured in reverse! Kocch's has this premium license plate rear view camera for commercial vehicles, trucks, and RVs. This aftermarket license plate mount rear view camera is simple to install, as it attaches to existing license plate holes and is quickly transmitted to your car monitor or park assist device. Select from a range of vehicle safety and security features, such as night vision, concealed bracket mounting, and wide-angle Lens as well.
150° Wide Field of View
This camera offers wide 150 degree field of view(can be upgraded to 170 degree Lens) which should allow a wide field of view whilst still giving a clear picture.
Camera angle can be adjusted 45 degree vertically. Connect this camera to one of our monitors and turn them on, this should ensure you can backup safely.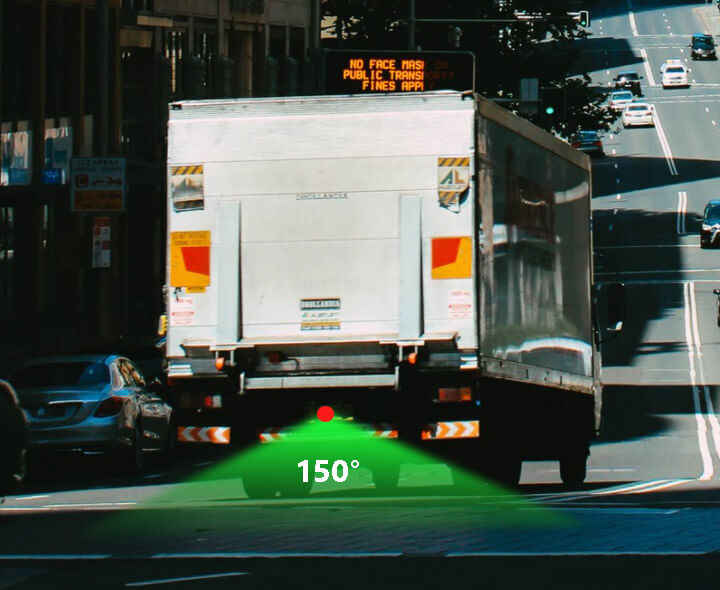 Heavy Duty Metal Housing
The camera itself is made of a high quality metal with an anti-scratch and ant-oxidation built-in so you will not have to worry about the color fading. Great for uses in the most demanding applications.
Features
Quick license plate mount

Full metal camera housing

Hidden wiring

Rugged IP69K waterproof

Threaded collar connectors screw-lock to form a solid connection

Wide viewing angle at 150 degree
PET Expandable Sleeve / Power Video Cable
Power video cable for camera monitor systems to connect monitors and cameras, 4-pin female to 4 pin airline aviation male extension cable, 10 meters(15M/20M/30M), φ5
Internal power supply ground lines are 24 # single wire, the audio cable is 26 # Single wire

Internal video cable should be a single braid shield wire or RG-179-75 braid coaxial wire.

Colors of all cables should be subject to the drawing paper.

Ambient temperature: -20 ℃ ~ +80 ℃

Inner resistance of cable: positive/negative wire≤ 2 Ohm, audio≤3Ohm, video≤ 3 Ohm
Alternative models available:
Cab5 – 5-meter cable
Cab8 – 18-metre cable
Cab10 – 15-meter cable
Cab12 – 20-metre cable
Cab15 – 25-metre cable
Cab30 – 30-metre cable