The M175 vehicle rear view monitor can connect and view up to 4 cameras. It features a split screen which allows you to view multiple cameras at once. By utilizing high grade components, this display is perfect for industrial, in-car rear view applications or any other applications where a small, durable, environmentally rugged display is required.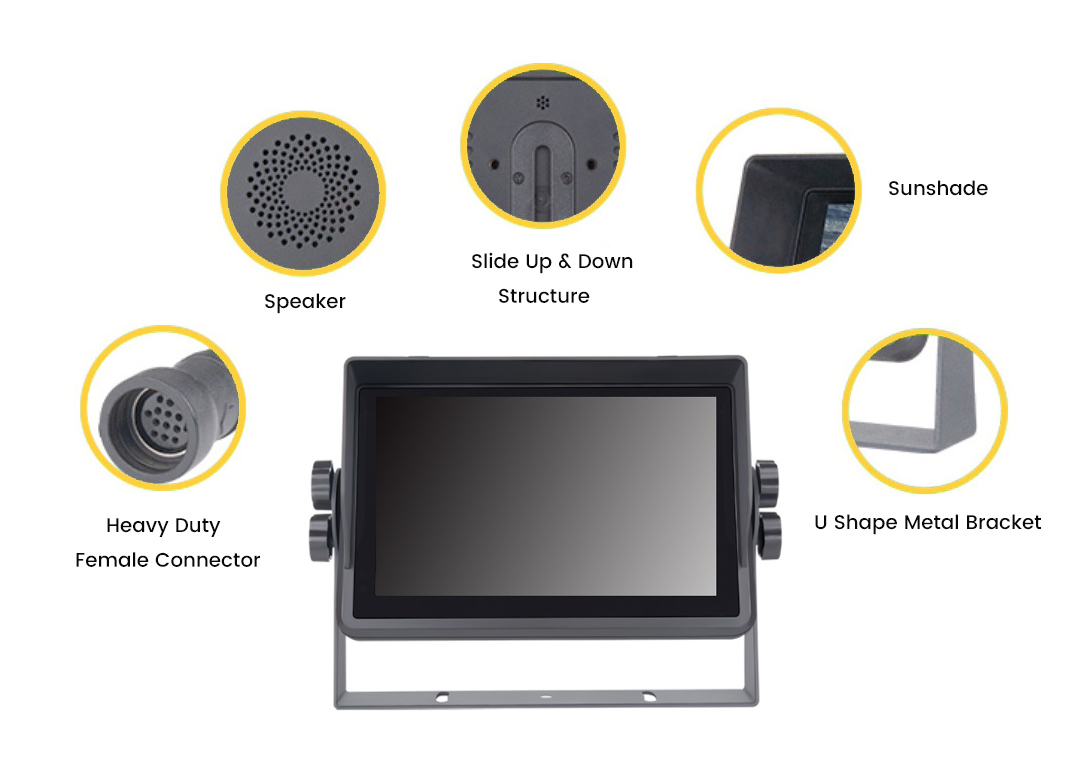 Touch Screen
The display features a touch screen for ultimate usability ease. Settings can be controlled with the buttons or the touch screen.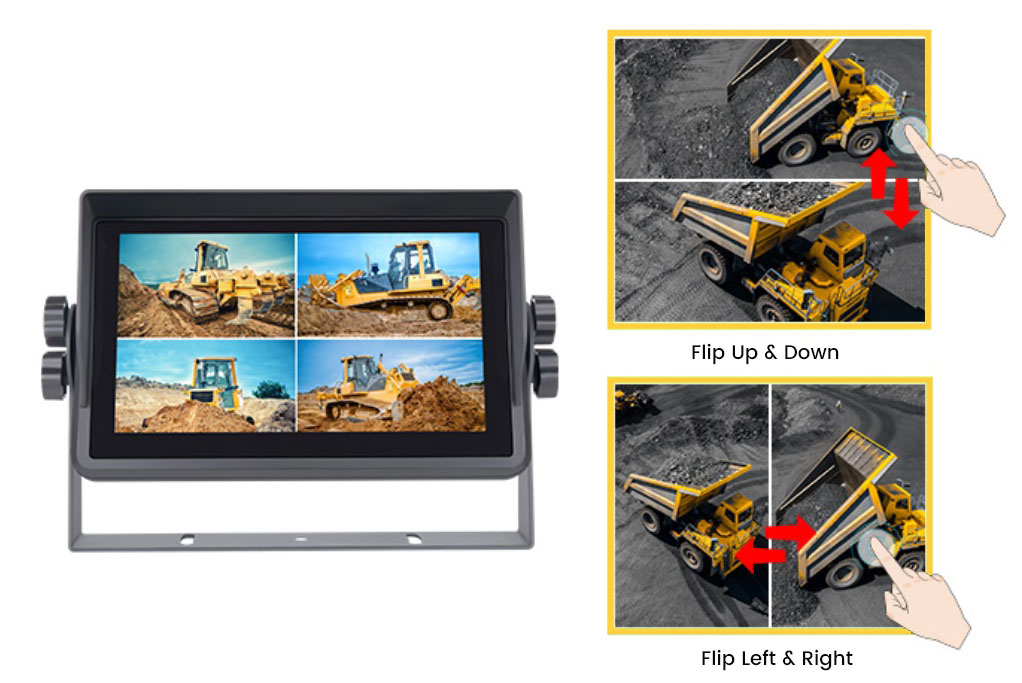 Fully Programmable
Everything from screen display modes to trigger priorities can be programmed. Triggers allow the electrical selection of a camera depending on the vehicle mode or status. If multiple triggers are activated the priority can be set. The autoscan feature allows automatic cycling of cameras and the duty cycle can be adjusted. Reversing grid can be turned on and off.
automatic camera switching duty cycle

trigger priority

choose menu language(up to 12 languages)

picture modes

video output mode
Wide Range of Industries
This monitor can be used across a wide range of industries and applications. These include manufacturing, engineering, mining, construction, forestry, agricultural, trucking plus many more.
Included:
7″ touch screen monitor

wiring loom

dash mount

infrared remote control

U-Bracket (great for dash and overhead mounting)

flush mount kit

sun visor

manual

1 x Lockable cable adaptor
PET Expandable Sleeve / Power Video Cable
Power video cable for camera monitor systems to connect monitors and cameras, 4-pin female to 4 pin airline aviation male extension cable, 10 meters(15M/20M/30M), φ5
Internal power supply ground lines are 24 # single wire, the audio cable is 26 # Single wire

Internal video cable should be a single braid shield wire or RG-179-75 braid coaxial wire.

Colors of all cables should be subject to the drawing paper.

Ambient temperature: -20 ℃ ~ +80 ℃

Inner resistance of cable: positive/negative wire≤ 2 Ohm, audio≤3Ohm, video≤ 3 Ohm
Alternative models available:
Cab5 – 5-meter cable
Cab8 – 18-metre cable
Cab10 – 15-meter cable
Cab12 – 20-metre cable
Cab15 – 25-metre cable
Cab30 – 30-metre cable