In today's post. We're going to discuss everything you need to know about commercial vehicle mobile DVR(mobile digital video recorder).
If you're interested in:
Knowing what is a commercial mobile DVR system for vehicles

Learning more about how such system can generate insurance claims savings

Considering invest in a mobile DVR camera system for your fleet or company
Then you'll like this new post.
This article will drive you through the journey. Let's get started right now.
What is Commercial Vehicle Mobile DVR Video System?
What is Mobile DVR? Mobile DVR solutions are Digital Video Recorder systems that have been built especially for TRANSIT / TRANSPORTATION based video surveillance.
Commercial vehicle mobile DVR system with GPS tracking usually supports connection of 4-16 cameras(HD cameras or analog cameras) that aid drivers in doing their duties safely. These systems ensure the highest level of safety and security to a fleet, which save data into SD card, HDD or SSD.
A mobile DVR system (digital video recorder) has been specially designed for applications in buses, trucks, taxi, trams, metro, ambulances and other private vehicles.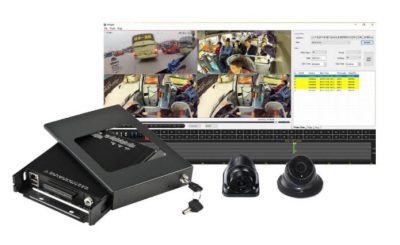 Differences Between a Mobile DVR and a Regular DVR
POWER SUPPLY – A regular DVR is powered by an adaptor / indoor power source and has a consistent voltage – DC 12V. A mobile DVR, on the other hand, is powered by the vehicle and enables wide voltage input/unstable voltage during engine start-up or braking when voltage drops to 8V or less or spikes up to 36V. ANTI-VIBRATION MECHANISM – A mobile DVR is built with vibration in mind, which is unavoidable in vehicles because they are continuously in motion and can lead to mechanical failure. The materials used for anti-vibration / shock-proof systems are employed in the mobile DVR.

DUST PREVENTION & HEAT DISSIPATION – A regular DVR is positioned in an open/well ventilated space and has a simple design to dissipate heat over a temperature range of -10° to 50° C. A mobile DVR is designed for installation in tight places and compartments where working temperatures can range from -20° to 70° C and humidity levels can reach up to 95%. The mobile DVR's material and construction allow for heat dissipation while also preventing dust from entering. CABLES CONNECTOR – A regular DVR utilizes BNC/RCA connector cable whereas the mobile DVR uses a lockable 4 PIN aviation connector to connect cameras which is a rugged and solid interface that ensures continuous transmission of power, signals and other data without failure.

DATA TRANSMISSION – Transmission was formerly the weakest link for many mobile DVRs, however, this has changed thanks to improvements in wireless technology. Previously, innovation in mobile DVRs was delayed since manufacturers' ability to provide value to users was limited due to limited transmission possibilities. Due to bandwidth volatility, even Wi-Fi was not as important as some expected. The availability of 4G and, more recently, 5G networks has enabled a wide range of additional functions. Previously, it was not feasible to send real-time data acquired from the car, such as video, position, braking signals, speed, and inertial measurements. All of this, however, is possible with a mobile DVR. Furthermore, it may be able to provide intercom functionalities.
How Mobile DVR System Can Benefit Your Organization
Running a large commercial fleet can be stressful and expensive. Fleet operators are under great pressures to achieve optimal performance and lower running costs.
Let's take a look at some of the key benefits these systems can provide you and your organization.
Safeguard Vehicles and Drivers
The mobile DVR camera system with GPS allows fleet managers and transport operators to have live-stream HD footage from individual vehicle cameras across the whole fleet to their desktop PC or mobile device with the press of a button.
The technology also incorporates a two-way voice communication system into the dash-screen, providing a direct link between the transport manager and each vehicle/driver in the fleet — a feature commonly employed by emergency services and blue light operations.
As a result, a firm can quickly track, monitor, and communicate with each of their cars and drivers in real-time, which is a tremendous benefit in any crucial circumstance and essential for protecting the fleet from any logistical hazards. This has been especially valuable for hauliers crossing foreign borders, where unlawful access by persons might result in a significant security breach.
All video footage is kept on the mobile DVR and has exact latitude/longitude GPS information, as well as the current address, average speed, and time/date incorporated as a watermark in the file. The in-built accident sensor can even identify harsh braking or a collision, instantly marking the file and sending an email notice to the appropriate managerial staff so they can analyze and download film as soon as possible.

Safety First
The second major advantage is increased safety, which is especially essential given how dangerous driving large commercial trucks can be.
To avoid such dangerous circumstances, personnel must have a greater awareness of what is going on around the vehicle, which may be accomplished by installing a camera system on your vehicles.
For example, depending on the system you choose, many systems allow you to connect an in-cab monitor with numerous cameras, such as side blind-spot cameras and cameras in or near the hopper. These systems often allow you to set up automatic triggers that bring certain views onto the monitor – such as the rear when backing up or blind spots when turning – to provide operators with enhanced situational awareness.
Liability & Driver Coaching
In addition to assisting you in protecting your employees and the general public while on the job, installing video systems can assist you in decreasing liability in a variety of ways.
Having a camera system that not only offers the operational views you require but also records to a DVR for a video record of activity in and around your trucks, can provide the information required to secure your business.
Assume one of your trucks is involved in an accident and the other party threatens to sue you because of negligence and injuries sustained. However, if you had video footage from the system demonstrating that the other vehicle ran a red light and caused the collision, you might share that video with law authorities or insurance companies to demonstrate that your driver was not at blame.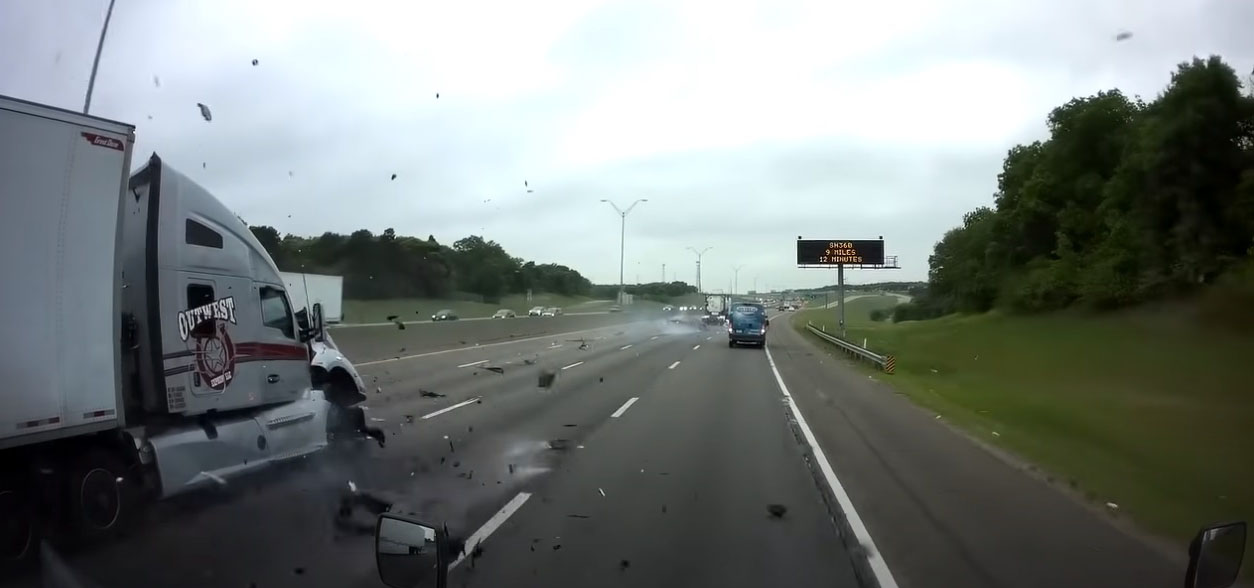 We investigated the average savings experienced by our clients over a one-year period following installation. Based on a fleet of 50 HGVs, a typical fleet witnessed a 61 percent drop in the number of claims, from 36 to 14. This resulted in an average yearly savings of 60% on fault claims, equal to a cost savings of USD246,000.
In the first year of operation, a typical vehicle CCTV system pays for itself 3.5 times over.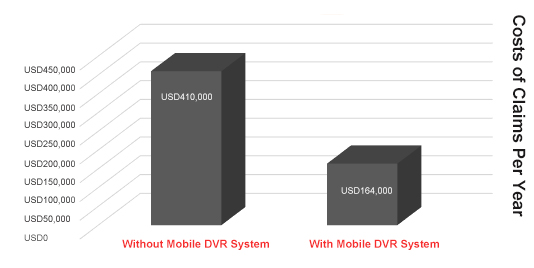 Average yearly savings based on a fleet of 50 HGVS: USD246,000
Special Documentation Cases
While mobile DVR systems can help with industry-specific safety and liability issues, they can also be used to solve other problems.
Waste management is one such unusual use case. Some companies are now using cameras to chronicle incidences of overfilled and contaminated bins.
If a bin is discovered to be in violation, the company will alert and warn the consumer before fining them for future offences.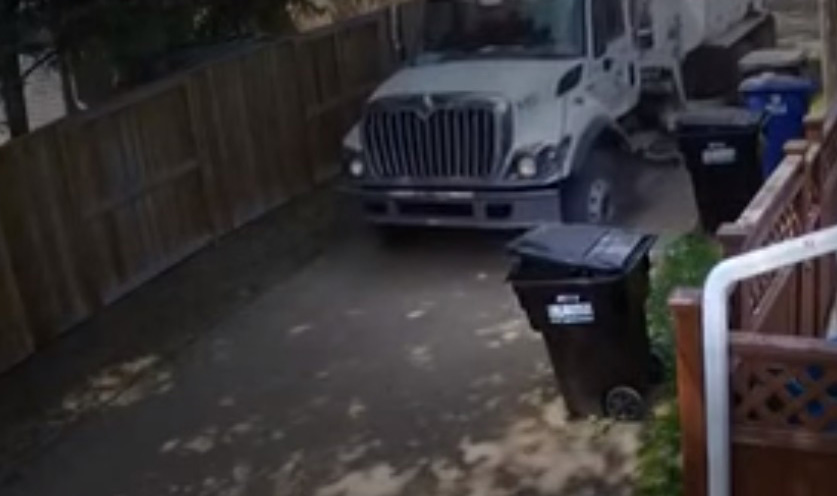 This is especially crucial when it comes to preventing recycling from being mixed in with garbage, which may make sifting through all of that a hassle for the service provider. Furthermore, overflowing bins might cause rubbish to blow out of the container and into the street.
Mobile DVR recorder systems can be used in a variety of ways to improve safety and liability coverage, but this example demonstrates how these systems can be used to handle some unique difficulties in the waste/refuse industry.
Detect Pedestrians with an AI Mobile DVR
It is common knowledge that left-hand and right-hand swipes and turns amount for a significant number of collisions and fatalities with vulnerable road users (VRUs).
Eliminating side blind spots through the latest AI camera technologies, will increase driver awareness and reduce incidents.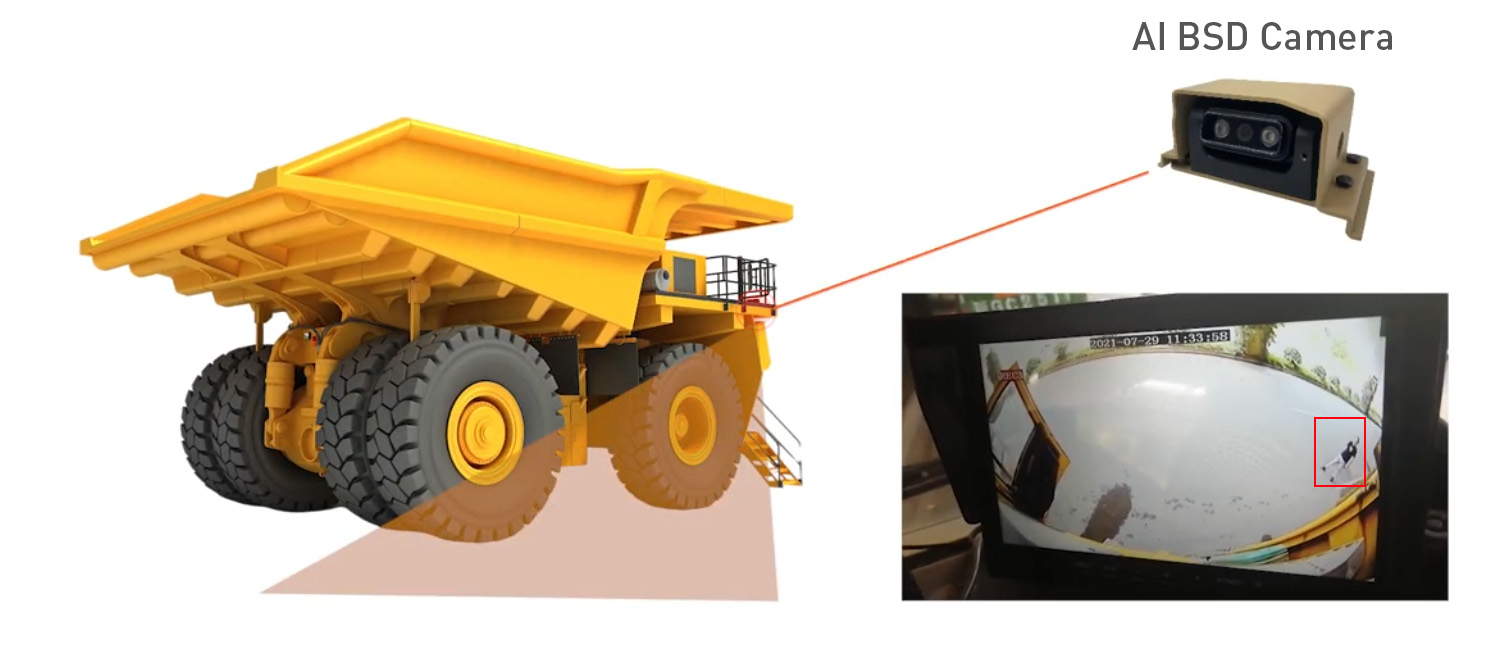 Using the latest video analytics detection coupled with AI, an AI Mobile DVR blind spot detection solution constantly records and analyses footage of the sides of the vehicle.
Audible and visual alarm upon detection: Once a vulnerable road user is detected in the blind spot area, a simultaneous audible and visual alarm is given to both driver and VRU in order to avoid a collision.
AI powered Mobile DVR can also send data to remote server via 3G/4G/5G to provide full telematics solution. Some solutions even include enhanced ADAS or DSM functions.
Conclusion
Hope you found this post interesting and useful.
Or maybe you have a question? Either way, let us know your thoughts in the comments section below.
Looking to improve safety, reduce liability and improve efficiency across your fleet?
Contact us today to see how you can solve those problems with a Kocchi's HD Mobile DVR Video System or Fleet Dashcam that provides unmatched 360° coverage to capture crystal-clear video in high definition.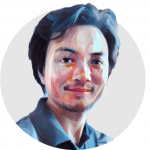 Article by: Eason 
Eason He
Kocchi's product manager Eason brings his technical expertise to help explain vehicle safety products in an easy to understand fashion. Eason loves sharing his knowledge of the vehicle camera system and technology insights. He is the part of Kocchi's team that knows 'all the things'. He's good at sharing his technical knowledge so you can benefit. BTW, he is an avid Lego fan!