Model: MD5BR 1080P Interior Mini Dome Camera
Description
The MD5BR Mini In-car Dome camera offers superior image quality in full HD 1080p resolution. It is the perfect in-car camera solution for all types of vehicle applications, including bus, coach, rail, vans, and many more.
It features an adjustable Lens angle, built-in IRs combined with an IP66 rated waterproof housing, providing durable performance and clarity even in complete darkness and in harsh mobile environments.
Rugged Metal Housing
An all metal housing creates a vandal proof package that is resistant to physical damage, virtually immune to tampering. The MD5BR AHD is IP66 – dust and water proof for exterior mounting while maintaining an operating temperature range of -20°C to +60°C.
Small & Flexible Installations
The camera is quite small in design, size is just 77 x 60.3 mm. And there are there different installation adapters available to allow quick and flexible installation.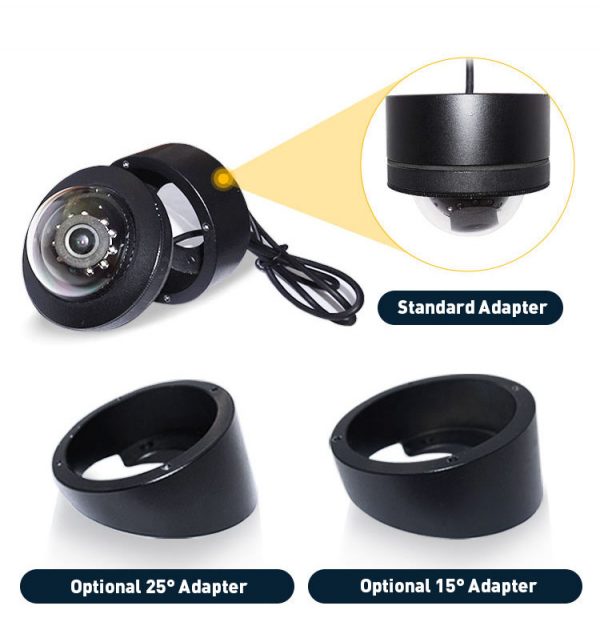 Features
1080p full high definition resolution
Shock-resistant sturdy aluminum alloy housing for In-car use

Adjustable Lens positioning

Available in black finish (color can be customized if necessary)

10 IR LEDs for night and low light vision

4pin/6pin/8pin/BNC/Molex connectors

The low-profile dome housing allows for more discreet placement to better blend with vehicle decor 
PET Expandable Sleeve / Power Video Cable
Power video cable for camera monitor systems to connect monitors and cameras, 4-pin female to 4 pin airline aviation male extension cable, 10 meters(15M/20M/30M), φ5
Internal power supply ground lines are 24 # single wire, the audio cable is 26 # Single wire

Internal video cable should be a single braid shield wire or RG-179-75 braid coaxial wire.

Colors of all cables should be subject to the drawing paper.

Ambient temperature: -20 ℃ ~ +80 ℃

Inner resistance of cable: positive/negative wire≤ 2 Ohm, audio≤3Ohm, video≤ 3 Ohm
Alternative models available:
Cab5 – 5-meter cable
Cab8 – 18-metre cable
Cab10 – 15-meter cable
Cab12 – 20-metre cable
Cab15 – 25-metre cable
Cab30 – 30-metre cable

Discuss your next project with us
Do you have a project or installation? Whether you are looking for standard specifications camera to suit your needs, or specialized camera system to solve unique challenges, we can help.
We're always happy to talk through your ideas and requirements. Ready to talk about your next project with us?
Still looking for something?