There're many aftermarket backup camera systems available on the market it can be difficult for you to figure out where to start — and whether or not you even need one in the first place.
Many assume the rear view mirror is appropriate for the backup operation. But you need to know that there is nothing that comes in comparison to the effectiveness of car reversing cameras at all.
Backup camera system certainly helps you to be safe and secure in every way possible.
There are two basic categories of camera systems – wired and wireless backup camera system that can be used if you want to install the rear view camera system for your vehicle.
Each system has its advantages and disadvantages, and ultimately you should choose between considerations such as price, cost, and comfort.
Whether you're a trucking company, a construction equipment operator, or a common driver, you can notice the rear view camera system can help to eliminate blind spots in large vehicles in particular, alert you when you come too close to an obstacle or when a small child goes in the car suddenly.
And also enables the direct vision of the propeller or engine behind a boat before starting.
Why Backup Camera System Are Important?
Nowadays the designs of the vehicles contribute much more pronounced in B-pillars (and C-pillars on crossovers, SUVs and minivans). Within sightlines, two front passenger headrests, and as many as five rear-seat and third-row passenger headrests are being obstructed.
The cars we drive also make it quite harder to look out of the back. Even if you are in your driver's seat, turning your head trying to look out the back window, the SUV or minivan with deep, tinted windows makes it difficult for you to see what is just beyond the bumper.
Healthy adults can either step from the path of a reversing car or alert the driver to stop. However, small children and individuals with disabilities cannot and they take the brunt of deaths.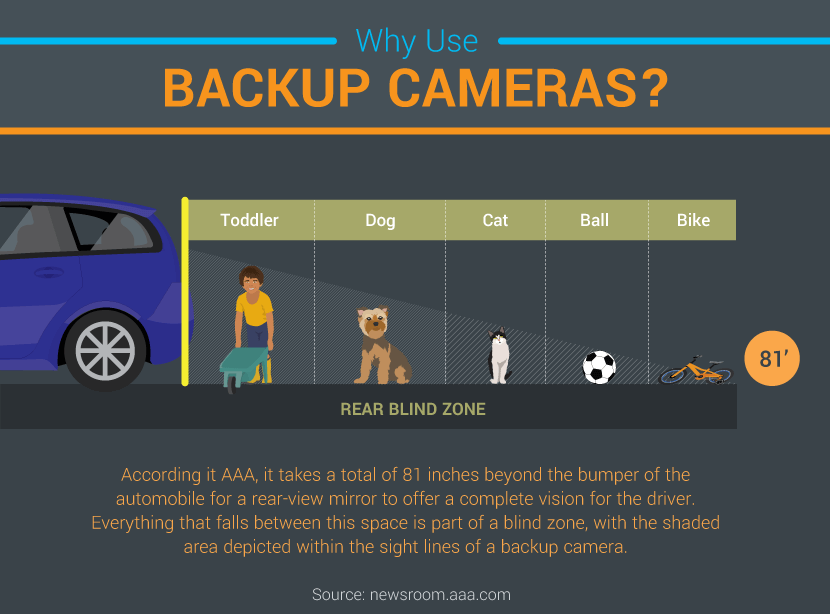 Source: fix.com
Pros of Wired Backup Camera System
More trustworthy. You can find a wired backup camera that works on your rig if you're driving a Class A motorhome, a fifth wheel trailer, or a small van.

You don't have to worry about signal interference or the frequency of your link, as opposed to wireless cameras.

Your backup camera is attached to the display screen via cables forever, so that you'll get a bright and clear picture. No matter what the weather outside you can always expect a clear signal and uninterrupted video.
Good image quality. Since a wired camera is hooked up to your monitor with wired cables, the image output data is much higher than a wireless camera solution.

The cabling can take more information to get sharp, focused images faster than a wireless camera. For maximum security, you will see exactly what is happening behind you REAL-TIME.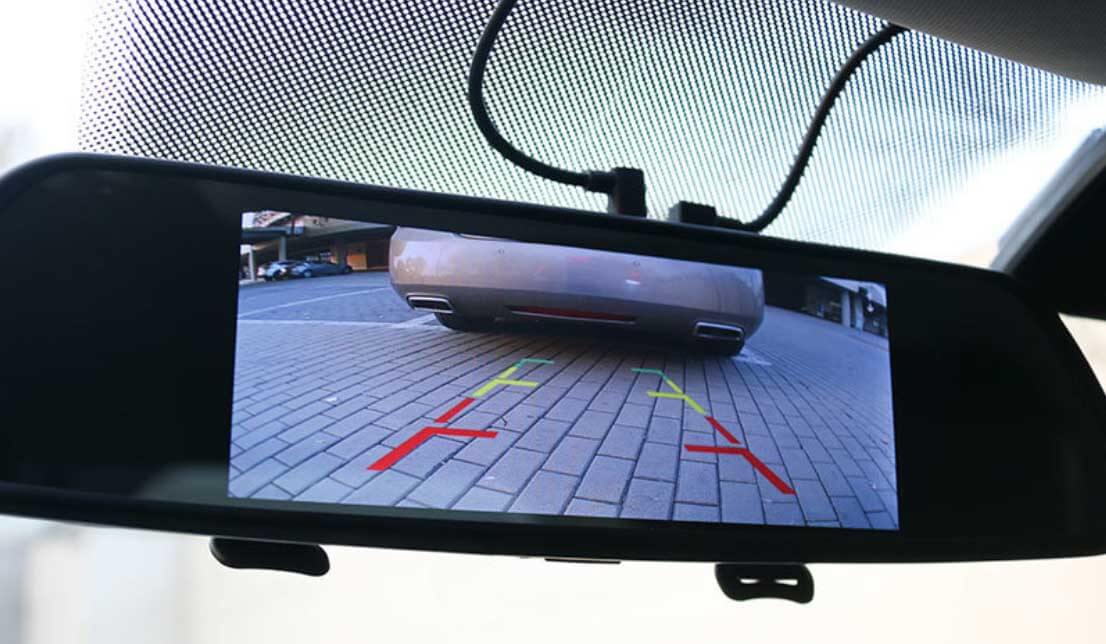 More option. Undoubtedly, for a lot longer, wired camera technology was there, manufacturers are more comfortable with it. While they need wiring installation, most car shops are familiar with wired systems and many can fit with your car's existing system.

And what's more, many high-end cameras have a wired version because of that.
Cons of Wired Backup Camera System
• Installation is tricky. You have to loop the cable around the whole vehicle to install a wired backup camera if your vehicle is not already wired to accommodate a camera system.
You can definitely attempt to handle this job yourself because the camera comes with comprehensive installation instructions, but some may find the installation process daunting.
It could be a quicker and convenient option to hire a specialist if you're are not practical or do not want "do-it-yourself".
• Costs more. If you need to have it professionally installed which would normally take 1 to 2 hours.
The installation process is much more complex for longer vehicles, including RVs, and definitely would increase total installation time and costs.
Of course, you can choose to install it by yourself which will take you time or risks of possible damages to your car with related costs.
Remember to budget all expenses with the system's overall price.
Pros of Wireless Backup Camera Systems
For wireless camera system, wires are not required to set up. Simply mount the camera and connect to power, power up your monitor and adjust for a good view.
However, a wireless camera system that uses digital signals may prevent any radio interference but you should prepare for random signal issues just to be a part of the wireless system.
Installation is easier. It could not be simpler to install, wireless backup camera system would spare you from running a wired connection between the rear of your vehicle and the front (which can be a relief if you're dealing with a big truck or RV).

It takes about 15-20 minutes to install, and everybody, even drivers who are not tech-savvy can do this.

For those who drive larger cars, including trucks and buses, wireless cameras are also preferable because of how simple it is to install a wireless system and how difficult it can be to install or run a cable on a longer car.
Lower price. Almost always, a wireless system costs less than a wired system.

Wireless cameras need less components (no wires, for example) which helps to reduce costs.

A further advantage of choosing a digital wireless back-up system is that the transmitter on the camera and receiver in the monitor are all built-in types.

Thus, there's less to install and of course the transmission range is more than double the standard cheaper analog wireless backup camera system.
Cons of Wireless Backup Camera Systems
Occasional connection issues. Often wireless backup cameras use an analog signal or digital signal. Analog wireless system would face interference which leads to a bad picture.

Some radio interference can be avoided with the latest digital wireless signal camera system, but the signal is unavoidable to drop off with increasing working distance between camera and monitor.

This isn't a deal-breaker for most people, but a wired system would be the way for anyone who needs 100% reliability for all the time.
Quality of the image. When a backup camera wirelessly transfers image data to the display, there is often a risk of interruption or delay depending on the signal strength which does impact the image quality displayed on your monitor.

You will always get an overview of what is behind you, but if you are in a tight spot you may like a little more image details or clarity.
Powering up the wireless camera. It is a wireless solution, but it does not mean there's zero wiring, you still need to power up the wireless camera from your tail lights power source.

That means remove the necessary panels from around the tail lights on the inside of the vehicle.

Or, if you have a truck there are normally access areas to the tail lights from the inside of the truck bed.

If you're not used to working on cars, you may find it intimidating and a little more time-consuming for this connection.
Wireless Portable Backup Camera System 
With built-in battery which makes it a "Truly Wireless" and portable solution which has become the go-to solution for those who wanted one but were put off by the installation process.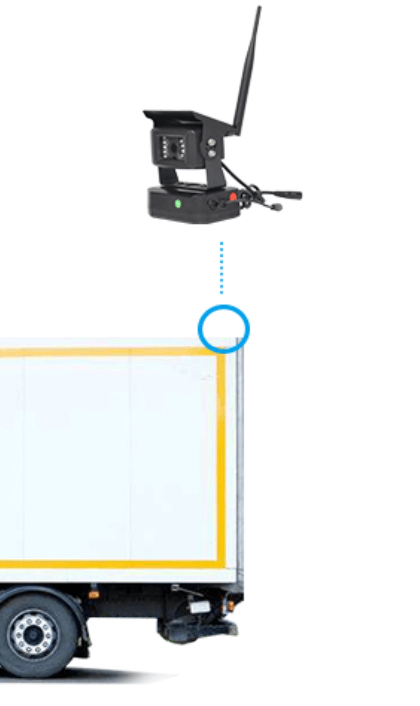 Pros of Wireless Portable Backup Camera System
No drilling installation. Battery operated wireless backup camera system with a battery pack and magnetic base. So you can attach the wireless camera to the battery pack and then quickly attach it to your vehicle with provided magnetic base. No drilling at all.
Lower price. Just like wireless backup camera system mentioned above, the wireless portable camera system costs less than a wired system.

But with an extra battery pack built-in the camera or attached to, the system would cost a bit more than standard wireless rear view camera systems.
Cons of Wireless Portable Backup Camera System
Needs manual operation. Since the battery-powered backup camera is wireless, it is not linked to any integrated vehicle system that might turn on or off the camera when you're reversing, so you might have to manually turn on the system when you're backing up.
Increased theft danger. Anytime you add more harnesses or technology to your vehicle, you can possibly anticipate an increase in burglary. This is not a problem if you're out in the country, but it can be very dangerous in the city.

We've heard several reports about people leaving their portable camera on the roof of the car and returning to find the camera is gone.
Weighing Your Alternatives
When you're choosing a vehicle backup camera system, from functionality to price points, you have a lot of things to consider.
While a wired system is definitely the way to go, wireless camera system especially the latest Digital wireless backup camera system would also be ideal for drivers who are on a stricter budget or are searching for a simpler and faster alternative without trade for durability.
So, what are your thoughts on this post? Has it aided you in determining the types of camera system you prefer?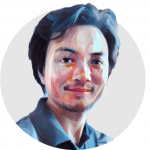 Article by: Eason 
Eason He
Kocchi's product manager Eason brings his technical expertise to help explain vehicle safety products in an easy to understand fashion. Eason loves sharing his knowledge of the vehicle camera system and technology insights. He is the part of Kocchi's team that knows 'all the things'. He's good at sharing his technical knowledge so you can benefit. BTW, he is an avid Lego fan!