In this article. We'll discuss what to consider when planning an RV backup camera system.
A lot depends on what's already in your dash or what you'd like to add, so check out the basics below to get a solid understanding of what installing backup camera video entails.
It's not that easy to back up your average vehicle. Motorhomes are larger than your standard vehicle and certainly more difficult to back up. You must also maneuver tightly around the campgrounds, which would be a nervous experience without a backup camera.
The ability to see behind you whether you are driving a car, motorhome or a travel trailer is incredible. It's certainly essential for safety and maneuvering.
In this post, we'll go through all of the options of RV camera system, backup camera and side view camera, and the kinds available on the market (i.e., wired vs. wireless).
In order to make smart decisions concerning this vital investment for your rig, we will also discuss some of your most often asked questions about RV backup camera system.
Why RV Backup Camera?
Backup Assistance – The backup camera makes it easier for you to back up.

When you put a backup camera into an RV, it just likes that you have a mirror on the rear. This can have numerous benefits.

For one thing, it makes it easier to back into things. You can also see the children, animals, cars and any other obstacles that were not present when you began to reverse.

Being able to see behind you, as you back up, in other words, RV backup cameras provide safety to support not only to your rig but to others behind/around you.
Road Trafic Safety – RVs are not usually the quickest on the road, which makes them tailgated by many people as a result.

Sadly, they're invisible to the RV driver if they go too close.

With a backup camera you can notice the blind spot problem behind you. A backup camera can also assist you in keeping an eye on your towing vehicle if you drive a motorhome.
Increased Security – Have you ever heard a sound or voices just a bit too close late at night just outside your RV?

If you sense there's an issue outside the rig, it doesn't necessarily feel comfortable just to go out blindly to meet anyone or anything.

There's no need to step outside your rig if you can quickly scan your in-cab monitor that displays real-time images from your cameras. In our opinion, this puts you in a safer position.
Can a Backup Camera be Added to Your RV?
If you've got an RV or 5th wheel camper, you're likely asking yourself: can I connect a backup camera to my car's head unit?
If you need to get a camera into your RV's head, that is totally possible, because most RV and trailer manufacturers put pre-wired bracket on the back of your RV, and you should contact the manufacturers so you are 100% you purchase the correct backup camera for your pre-wired RV.
Certainly don't have to install a specific brand of camera system if you have one of these kits pre-installed on your RV.
Insted, you can purchase an aftermarket backup camera system from the market, which would come with a 7″-9″ monitor as these cameras aren't normally compatible with the screen in your vehicle if it already has one.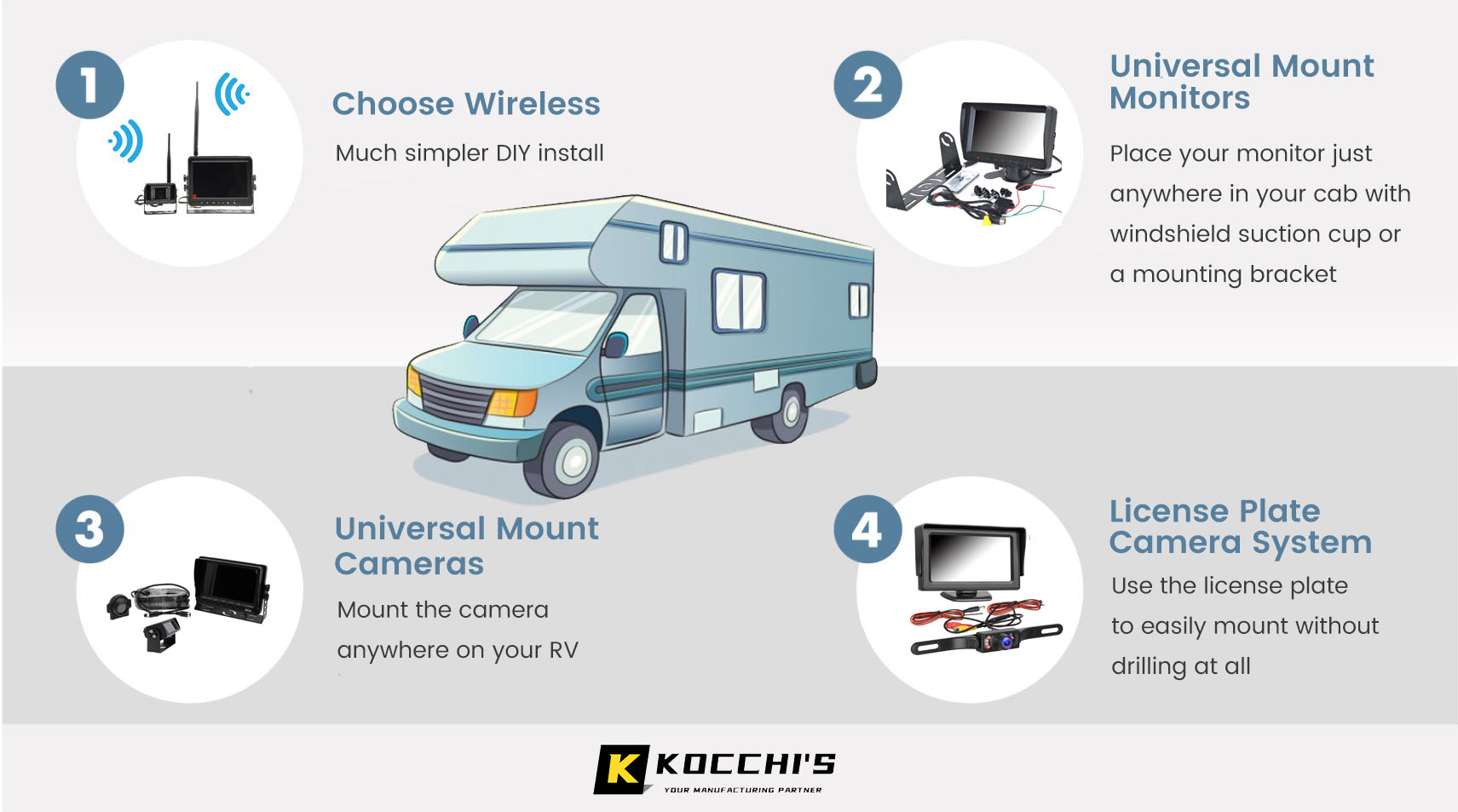 Wired vs. Wireless Backup Cameras for RV
So, what kind of RV backup cameras are available?
While dozens of certain brands and models exist, they are usually divided into two types: wireless and wired.
Wired RV Backup Camera System – Wire into your RV, as the name says.
That means more installation is required, and usually greater installation expenses.
But it also means that you can add it to any RV out there practically. You can always find a wired RV backup camera from the market that works on your rig whether you drive a Class A motorhome, a fifth wheel or a compact sleeper.
You don't have to worry about the issues of losing signal in this case as people do sometimes with the wireless cameras.
In particular, if you have a lengthy RV, it can be more difficult to hold the signal if the distance between the display and your wireless camera is quite large.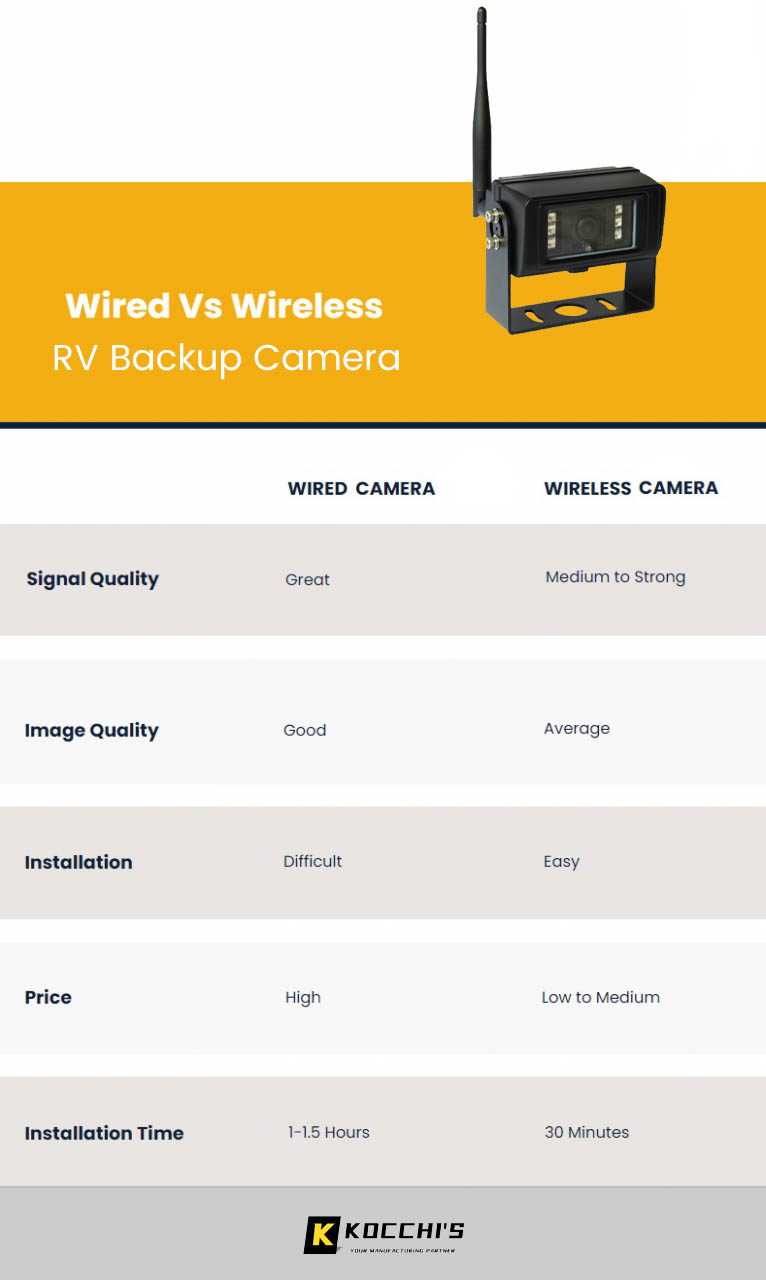 Wireless RV Backup Camera System – As indicated, not hardwired.
Instead, the wireless backup camera is connected to the monitor using wireless technology – analog or digital wireless signals.
Although these cameras are frequently cheaper and quicker to install than wired systems, some campers say that they are unreliable since the signal tends to drop sometimes.
Markedly, they only need to be connected to DC (12-volt) power at the monitor and the camera. These systems are chosen mostly for their ease of installation.
That said, for ease of use and installation(don't need to hire a professional), they can't be beaten.
Wireless RV Hitch Camera
As a solo full-time RVer with a travel trailer, hooking up without an RV hitch camera has been the torment of your existence.
You used to have to hook up horse trailers, and you STILL hadn't mastered this task?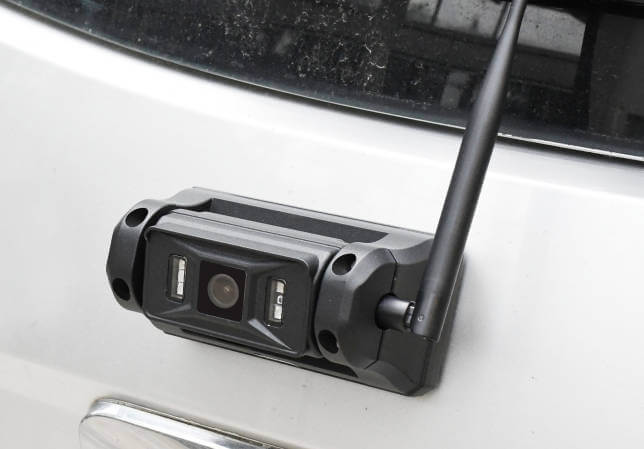 Image: Kocchi's Wireless RV Hitch Camera
Such a wireless RV hitch camera system allows real quick installation with its built-in magnetic base.
The only negative you can find about it is that you have to put this RV camera on the bumper (magnetic attachment) and take it off for each use.
However, this is also a good thing – it can't get damaged in the elements, nor can someone steal the trailer camera right off the bumper.
What to Look for When Purchasing an RV Backup Camera?
You can pick up a wireless or wired RV backup camera system that suits your needs.
But what else should you think about such system when shopping?
Monitor Size  
If you do not have a high-quality backup camera monitor, the best camera in the world is not worth.
You want to guarantee that the monitor has the correct size to allow you to watch your camera backup feed easily, and the screen resolution is crucial just like your smartphone and other technology.
Undoubtedly you may get such a massive monitor that it will start to block your road vision!
This means that displays are usually ranging from about 3 to 10 inches in size.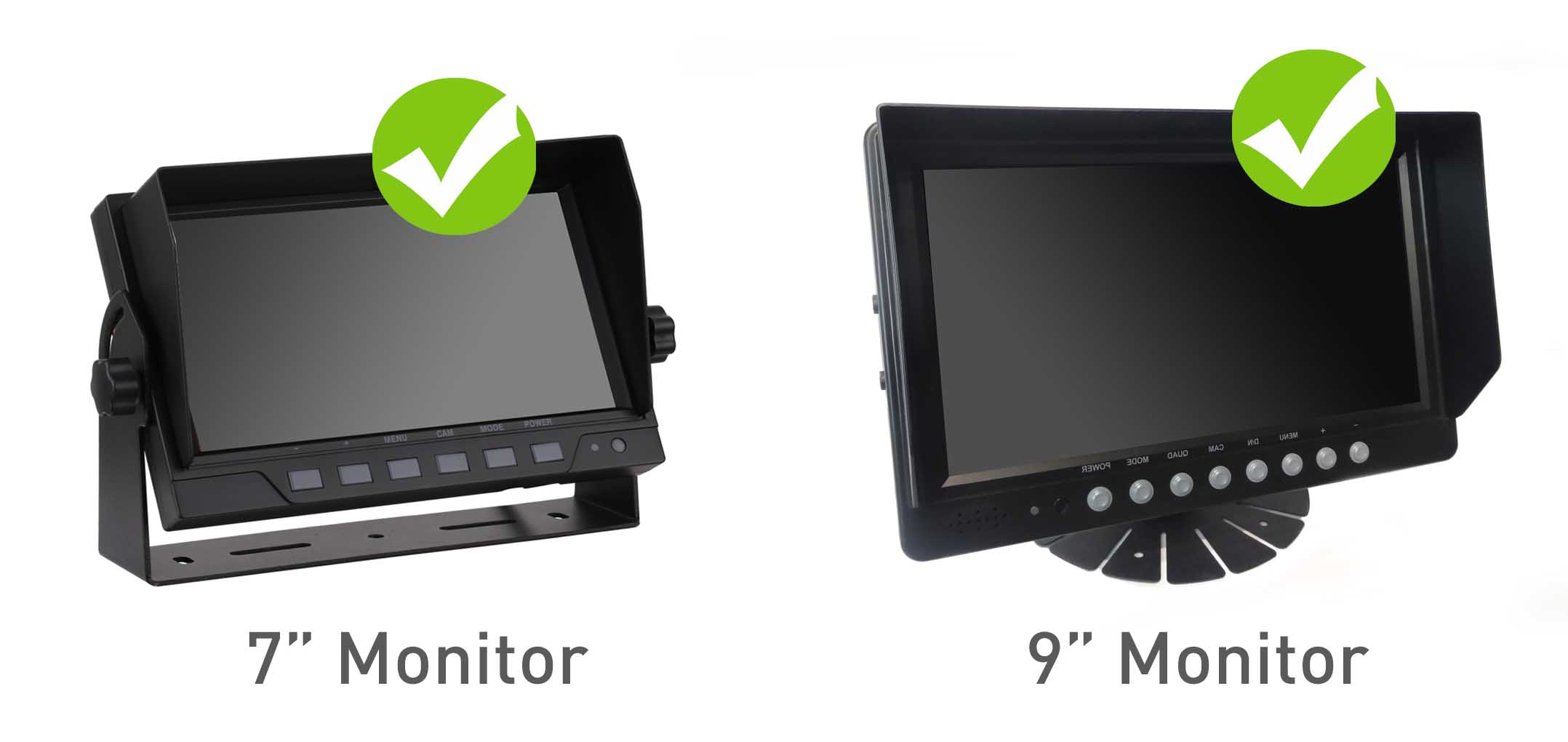 To optimize your vision, we recommend between a 5-inch, a 7-inch and 9-inch monitor. This size is large enough not to distract.
Monitor Resolution  
Most monitors on the market offer resolution of 800 x 480 pixels.
Basically, this is the same resolution that your computer had in the day. Or what a TV with a non-high definition.
It's not terrific, in other words. These monitors are just doing a decent job to show you what's behind you, but that's all.
But some newest AHD backup camera systems now start to use HD screen monitor, resolution is upgraded to 1024 x 600 pixels. And what is more, these HD monitors support 720P/1080P RV camera input.
And no doubt, the more pixels, the better!
Camera Build Quality
RV rear view camera or side view camera are a crucial safety feature to any RVs for the removal of blind spots while driving.
If these cameras become so foggy and unusable to see clearly, they won't offer ease of driving and safety to you.
If the lenses are simply dirty, try cleaning them with an eyeglass cleaning kit, which is gentle on the lens coatings.
BUT if the lenses are fogged from internal moisture due to camera sealing issues and lower waterproof level, then there's not much that can be done.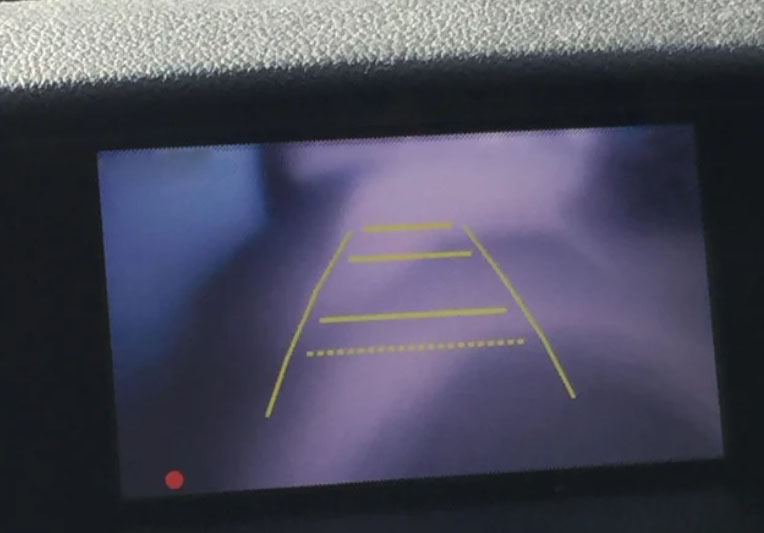 Most of the time, you have to replace these foggy cameras rather than fixing them.
So, when picking a rear view or side view camera for your RV, it is very important to consider the build quality of cameras, waterproof IP68 or even IP69K camera is highly recommended that will help cameras to last longer.
Camera Image Sensor
CCD and CMOS sensors are used in the majority of backup cameras.
The sensors convert light to signal in two ways: CCD is mostly analog, whereas CMOS is digital. In general, a CMOS sensor consumes less power and is more sensitive to image noise than a CCD sensor, although a CCD sensor is slightly better suited to dealing with changing lighting conditions than a CMOS sensor.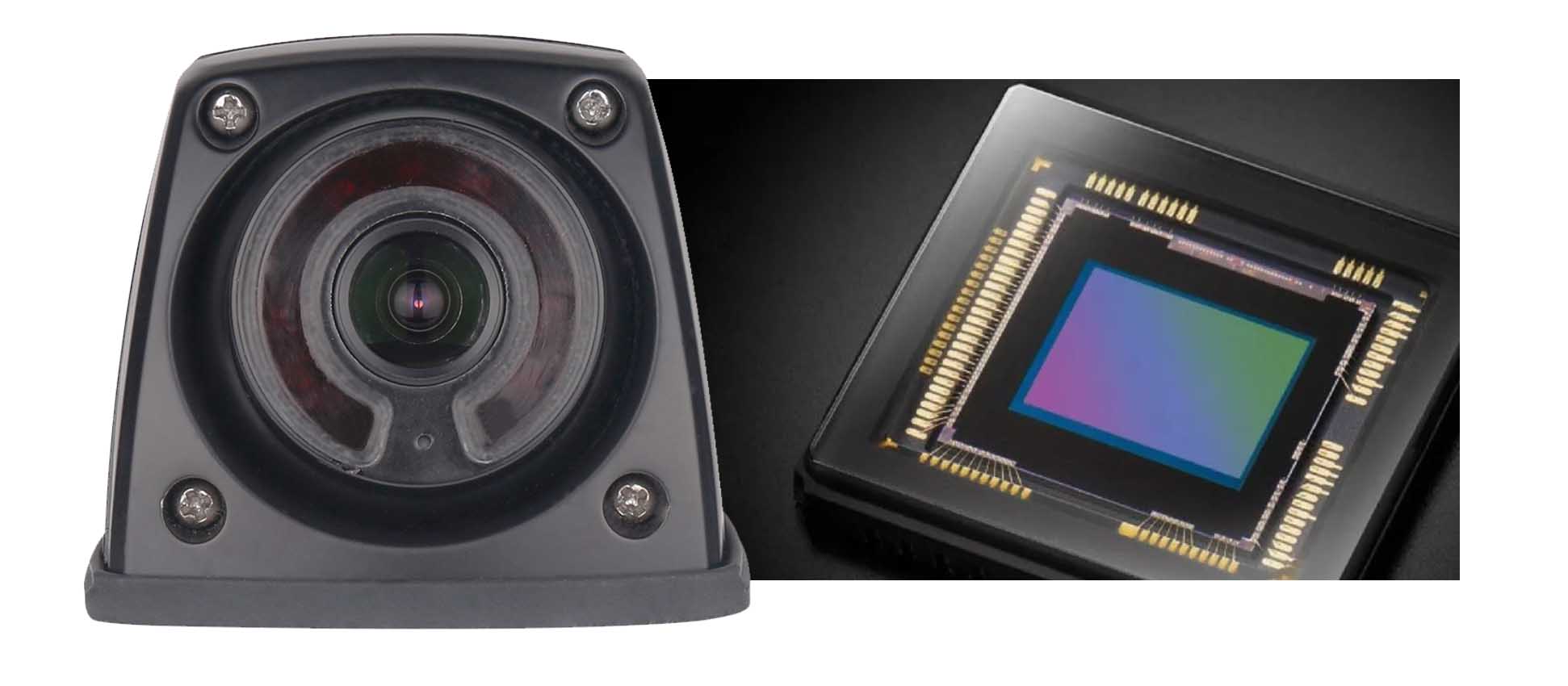 The difference may be insignificant depending on the types of environments in which you regularly drive. In the industry, the debate over which sensor is "better" is ongoing, with supporters on both sides. In most circumstances, it is unlikely to be a deciding factor in the camera you select.
Camera Field Of View
A range of fields of view are available for RV cameras.
It might be between 90 and 180  degrees anywhere. Again, in this respect, bigger FOV isn't better.
90-Degree View Angle – This is the smallest FOV to take into account for purchasing your RV backup camera or side camera. These cameras have a centerline of 45 degrees.

This allows you to see the view decently so that you can see other cars and people on the road.

Most of your blind spot can be removed by these cameras. However, this causes you to always check your monitor when everyone approaching your RV.
120-Degree View Angle: Now, we're going to name that the 'sweet spot'! In general, these cameras offer the optimum compromise between field width and visibility.

The coverage on each side of the vehicle's center line is around 60 degrees. This enables you to see someone in your blind spot.

Also, you may observe them approach so they do not emerge suddenly on the edge of the camera's FOV.

Compared to a narrower camera, the only gain here?

A larger screen is needed for the pictures to effectively show. So, we recommend a 7-9″ screen for these cameras.
180-Degree View Angle: We do not recommend your camera to have such ultra wide view. It's too broad to work properly.

First, a 180-degree view is hard to exactly be shown on a fairly small screen of yours.

Secondly, the final outcome is that you gain a fish eye effect with a 180-degree camera. While this distortion may allow the viewer to see a broader angle, but it twists up the reality of the distances on the monitor.

The reality is that cameras with ultra wide view angle would only cause more accidents than they prevent.
Conclusion
Not only will a backup camera prevent you from hitting others, but it will also prevent damage to your rig. This will save you some major insurance money, and give you greater peace of mind.
There was SO much to learn about backup cameras and side view cameras while picking up the best camera system for your RV.
Hopefully, your question was answered here.
Lastly, if you have any questions that were not answered here, and aren't already in the comments, feel free to comment below.
When it comes to backup cameras, Kocchi's has your back. You can learn more about our RV backup camera and RV side view camera.
If you're looking to resell RV backup camera system at your market, contact us today and tell us more about your needs.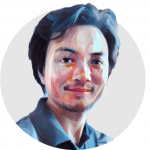 Article by: Eason 
Eason He
Kocchi's product manager Eason brings his technical expertise to help explain vehicle safety products in an easy to understand fashion. Eason loves sharing his knowledge of the vehicle camera system and technology insights. He is the part of Kocchi's team that knows 'all the things'. He's good at sharing his technical knowledge so you can benefit. BTW, he is an avid Lego fan!